The i98FM Illawarra Convoy moves to Sunday 5th of December!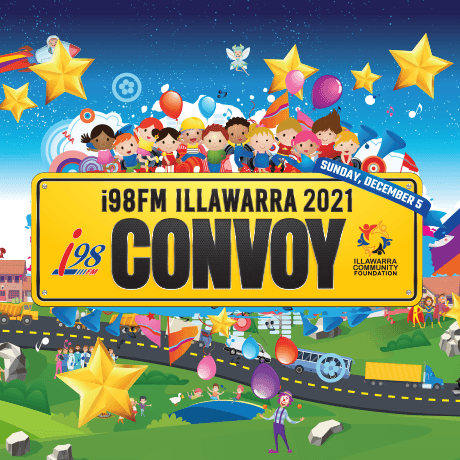 The i98FM Illawarra Convoy moves to Sunday 5th of December!
25 October, 2021
The 2021 i98FM Illawarra Convoy, scheduled to take place Sunday 21st of November has been rescheduled to Sunday 5th of December, with no accompanying free family fun day at Shellharbour Airport.
"We have been monitoring Covid-19 restrictions and vaccination rates carefully and are excited to announce that Convoy will be going ahead this year! We have made the decision to move Convoy for the first time in its 17 year history to December" said Convoy founder Marty Haynes. "This
will be a fantastic way to bring the community together after being in lock down for months, to help support those families in the Illawarra and South Coast affected by potentially life threatening medical conditions,' said Marty.
The truck and motorbike Convoy will run without the Free Family fun day that is usually planned at Shellharbour Airport, and instead of the event finishing at the Airport, the Convoy will finish at the Convoy shop, Corner of Airport Rd and Princes Highway, where vehicles will continue to the Yallah roundabout and head home. "Restrictions on crowd numbers mean unfortunately running the free fun day is not a possibility this year, but we encourage people pack their picnics, find their spot along the 80km route from Appin to Albion Park Rail, and sit back and enjoy the free event that is the motorbike and truck convoy" said Convoy manager Mark Rigby
Registrations for motorbikes and trucks are now open and can be completed online on the Convoy website www.illawarraconvoy.com.au or in person at the Convoy Shop, Corner of Airport Rd and Princes Highway Albion Park Rail. Registrations cost $30 and include a complimentary 2021 royal blue Convoy event t-shirt.
You can also donate to the i98FM Illawarra Convoy, and fundraising activities such as silent auctions, merchandise sales, raffles and more for the benefitting charity; Illawarra Community Foundation can all be undertaken through the Convoy website.
With the truck and motorbike Convoy proceeding in December, the traditional lead bike and lead truck bidding will also take place this year, with lead bike bidding on air with the i98FM Breakfast team on Wednesday December 1st and lead truck bidding on Thursday December 2nd.
"Covid-19 has affected everyone in the last few years, and really minimised the amount of fundraising events that were planned throughout the year by our amazing supporters.' said Convoy manager Mark Rigby "We aren't anticipating any record breaking lead truck or bike bids this year because of this and will be happy with whatever funds people can donate after such a difficult year. Unfortunately those patients affected by potentially life threatening medical conditions that Convoy supports, don't get a year (or two) off because of Covid-19. Their treatment still goes on, and for this reason we are pushing on with our fundraising and the truck and bike Convoy this year and look forward to the community coming together for this special event"
For more information head to www.illawarraconvoy.com.au