Could we all "Shine like Charli"?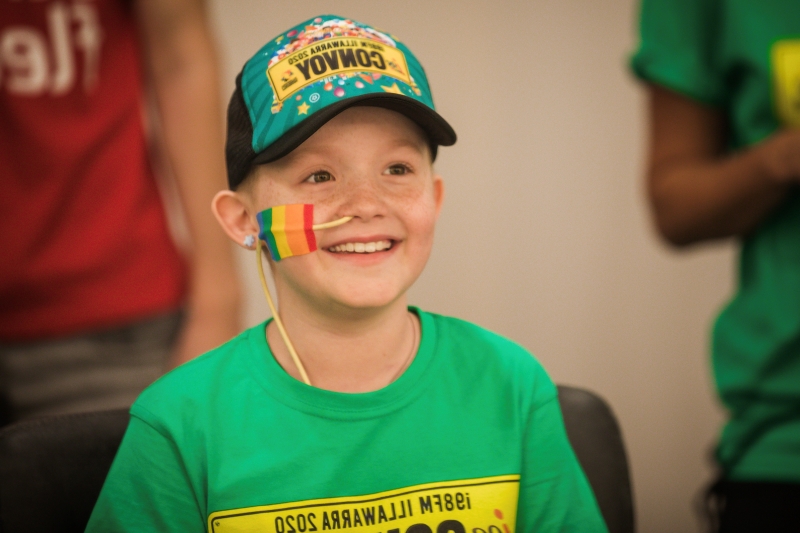 Could we all "Shine like Charli"?
5 January, 2021
Charli Gerrey is a bubbly 10 year old from Woonona, who like most ten year olds enjoys time with friends, dancing, playing with her sister (and guinea pigs) and all things girly! But Charli's life was about to change dramatically when she started to get lumps on either side of her throat as if her glands were swollen, which steadily rose up the side of her head. By week two she was very lethargic and after some antibiotics and a few Doctor's appointments Charli's parents pushed for blood tests. "We received a call from pathology at 9pm the same day to say that they suspected Charli had Leukemia and to go straight to Wollongong Accident and Emergency." said mother Faye.
Unfortunately in May 2020, Charli was diagnosed with Acute Lymphoblastic Leukemia, which came as a huge shock to her family. She was transferred from Wollongong Hospital Children's Ward, direct to Sydney Children's Hospital where she commenced chemotherapy immediately. "Before Charli got Leukemia, I thought that chemotherapy was administered through a needle in the arm whilst sitting in one of those slippery leather lazy boy chairs. Which I guess is partly correct, but there's so much more to cancer treatment than I thought," said mother Faye. To give you a rough idea of what it is like here's one typical dose of chemotherapy;'


2pm Tuesday: Arrive at Sydney Children's hospital to haveCharli's port accessed(the line in her chest) & then head over to the kids oncology in-patients ward(C2West)
11pm

Tuesday: Start intravenous pre-hydration fluids via port that run over night
7am

Wednesday: Start fasting for anaesthetic in the afternoon
9am

Wednesday: Intravenous High Dose Methotrexate starts and runs for 24 hours. Anti-nausea drugs are given too, and every every wee is collected and tested to make sure Charli's excreting the chemo fast enough (the Dr's want it in and out as quickly as possible otherwise it can severely damage the kidneys).
1-3pm

Wednesday: Lumber Puncture and intrathecal methotrexate under anaesthetic. This means Charli's given chemotherapy through a needle which is inserted into one of the spaces between thebones in her lower back to prevent leukaemia cells entering the cerebrospinal fluid (CSF) around the spine and brain.
9am

Thursday: Intravenous chemo ends and Folic Acidrescue (Leucovorin) commences along with intensive hydration to get rid of all the chemo in Charli's body.
3pm

Friday: Final blood test (bloods are taken every day at 4am also)
5pm

Friday: If blood levels are good and Charli's excretion levels of Methotrexate are good then she's given the all-clear and can go home. If not, we stay until they are.
"Childhood Leukemia is a crazy rollercoaster, and I've learnt over the last 5 months that I need to be able to drop all-the-things at a moment's notice and be OK with that - which hasn't been easy given that I LOVE structure and am a total control freak,' said Faye.
Mum Faye is self-employed, and had to reduce her work hours dramatically to be with Charli during her chemotherapy and frequent ongoing treatment. Whilst in treatment friends set up a gofundme page for Charli, which raised over $17,000 which allowed Faye to be by her side every step of the way, and not worry about working.
Charli's dad; Will, is an Air Conditioning Site Manager working on large commercial construction sites in Sydney leaving very early in the morning and is gone for most of the day. He needed to take time off immediately when Charli was initially in hospital, and has taken significant leave to help with hospital stays since. On top of that, the stress of juggling his job and his daughter's cancer diagnosis became a very heavy burden so he stepped back from his management role.
The family started the Shine like Charli Facebook, to document the treatment process publicly so friends and supporters of Charli could stay up to date.
Charli has received support from many people within the community, some the family didn't even know. "We bought a caravan recently and Renae and James who we bought it off, gave us $400 worth of Big4 Caravan Park vouchers, so we could get out there and enjoy time with Charli" said mum Faye! 'Despite only meeting Renae and James once, James had gone into work the following day and asked his boss if they could do a whip round at work for us. He said our story really touched them as they have kids of similar ages, and could only imagine how tough our lives have been this year."
An application for support was also submitted by Julie Haines from Wollongong Hospital Children's Ward to the Illawarra Community Foundation, from funds raised during Convoy. The application was granted and the family also received $4000 of coles vouchers and $4000 or Caltex fuel vouchers. "We are proud to support Charli, and her family during this difficult time, despite Charli's treatment she remains very positive and always seems to have a smile on her face. We don't know if we could Shine like Charli!' said Marty Haynes, Convoy Founder.
After receiving support from Convoy, the family thought maybe they could raise some funds to help others just like them. A Shine like Charli fundraising page was set up on the Convoy website with an aim to raise $1000. That target was reached in the first hour, and to date Charli's page has raised over $13,000! "It's an incredible initiative and community effort, which we really didn't know much about until Charli got sick. But boy do we now, and we're so keen to be involved in any way we can moving forward,' said Faye.
The Gerrey family was also involved in the #Convoyathome live television special, on Sunday 15th of November, sharing the family's medical journey, and to their surprise Charli got her own mini Convoy from Woonona to the WIN Network Studios, which involved a few motorbikes, and a Cleary Bros cement truck adorned with Charli's picture and Shine like Charli signage.
"Convoy was nothing short of incredible! Charli was made to feel like a rockstar all day, from having her own little Convoy at home, to visiting WIN studios and being part of the live broadcast. After a terrible year, this was a truly amazing experience and created memories that we'll treasure for a lifetime. I heard something say that you never forget you first Convoy, and that's certainly true for us despite it being a covid version! Bring on 2021!" said mother Faye. "Charli is still undergoing intensive treatment, which we hope she will finish by February 2021, and she'll then have 18 months of maintenance chemotherapy after that. It's a long haul but we have incredible support around us, and thanks to Convoy and our community this marathon effort is much more bearable"
"Charli is a brave and inspiring young girl battling Leukaemia, and we encourage others dealing with potentially life threatening medical conditions to reach out to us for support' said Convoy Manager Mark Rigby. "We will be following Charli's progress on her Facebook page, and hope we can get her in a truck in Convoy next year so she can get the full Convoy experience.'
For Illawarra Community Foundation funding information please visit the www.illawarraconvoy.com.au website.