Convoy raises 2 million dollars!!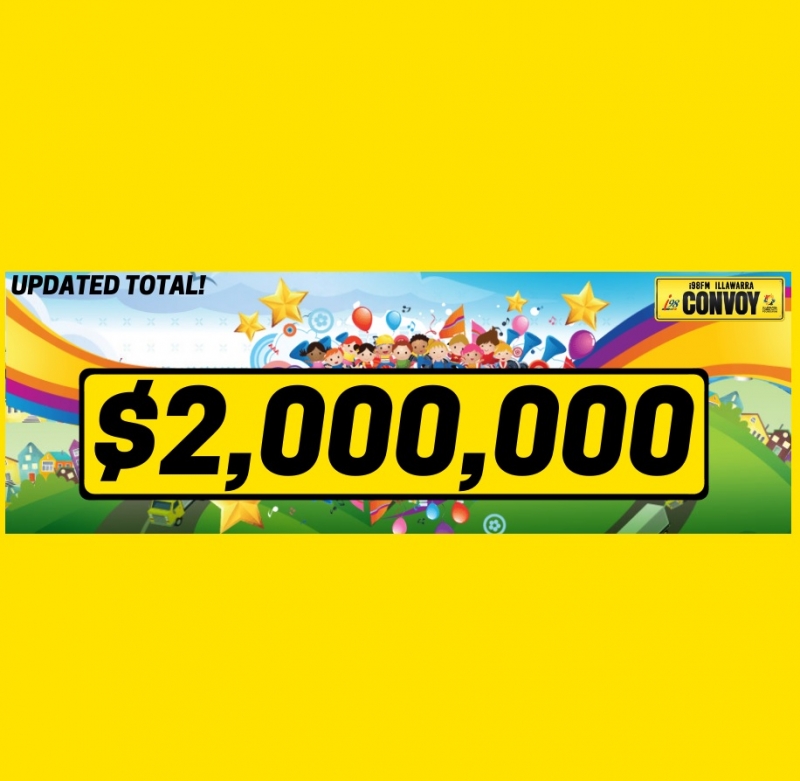 Convoy raises 2 million dollars!!
21 November, 2018
Wednesday, November 1 2018
This morning the final tally for i98FM's 2018 Illawarra Convoy was announced with i98 Breakfast Show hosts Marty Haynes, Christie Hayes and Ryan Cram. The Convoy which was held last Sunday November 18, raised an astounding $2,000,000! After a first live announcement on air with i98FM's breakfast team of $1,936,868.70, a call was received in the studio from Bluescope's Dave Bell, who rounded the figure up to $2,000,000. Today's announcement was up from the total funds raised in 2017 of $1,928,492
The event which is now in its 14 year, saw 721 trucks and 965 motorbikes travel 70 kilometres from Illawarra Coal's West Cliff Colliery at Appin, through the streets of the Illawarra, to finish up at the new home of Convoy, The Illawarra Regional Airport. The Convoy arrived at the airport for a huge free family fun day, featuring live entertainment from Choirboys & Sheppard, Freestyle Motocross displays, market stalls , helicopter joy flights and kid rides. Registrations were open to all Truck and Motorbike enthusiasts who entered for a $30 donation. Last week, the opportunity to take the coveted position as the lead truck in the Convoy was fought out live on air with Marty, Christie and Crammy. Winning top spot with a bid of $310,000 was the 'Dandaloo Boys', a group consisting of local businesses, The Dandaloo Hotel, Coastal Windows & Doors, Doherty Transport, Illawarra Engineering Services and Snare Fabrication.
In addition to the $310,000 winning donation, Derek McMahon & the People's Truck also contributed $181,000, along with Illawarra Truck Repairs and Spares $180,000 and MJ Rowles at $117,500.
Bluescope's unexpected extra donation of $63,131.30, and their entertainment sponsorship of $50,000 made a total donation of $113,131.30 towards Convoy.
Leading the motorbikes in the Convoy with the winning amount of $90,203.45 was Carr brothers Motorcycles, followed by Coles Illawarra at $46,000, James at $26,000 and the Leisure Coast Bike riders team of $20,000.
This morning's announcement now means that a total of $13,450,158 has been raised in the Convoy's 13 year history.
All monies raised in this year's event will go to the Illawarra Community Foundation who will distribute funds to local charities and families who are facing life threatening illness. Submissions for funding can be made at the Convoy website www.illawarraconvoy.com.au
Convoy Founder and i98FM Breakfast Show host Marty Haynes said of this morning's result "It never ceases to amaze me how generous the people of the Illawarra are. This money will help to make a real difference to those who are bravely facing other illnesses and hardships in our community. To everyone who has supported Convoy, thank you…be nothing but proud of yourselves."
For anyone wishing to see more of this year's event, WIN NEWS Illawarra and the All Australian NEWS on the WIN Network are featuring special reports tonight. All reports can be viewed & shared from the WIN News Illawarra Facebook page and donations can be made at www.illawarraconvoy.com.au