Convoy funds the Illawarra Cancer carers 2022 patient transport program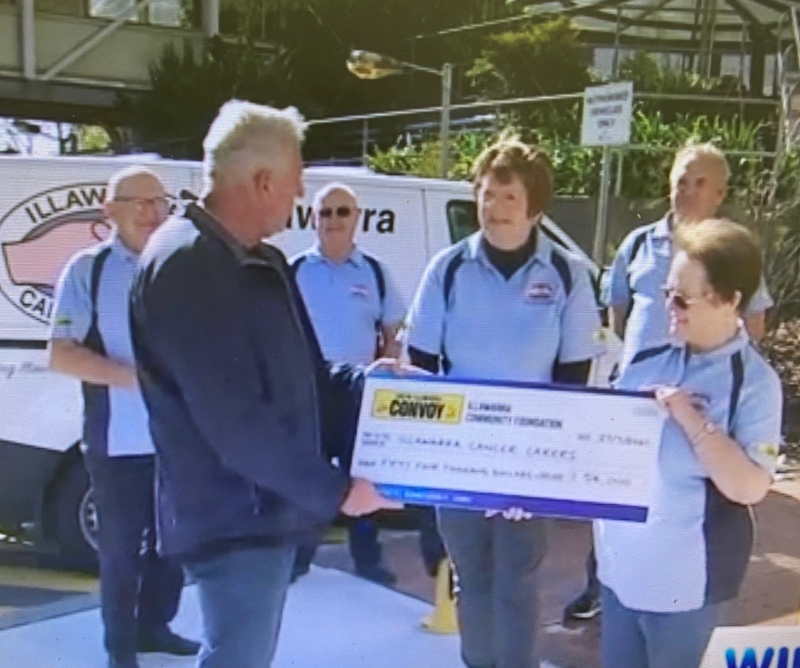 Convoy funds the Illawarra Cancer carers 2022 patient transport program
29 July, 2022
The Illawarra Cancer Carers formed in 1990, with the group celebrating over 30 years of service to Illawarra Cancer Patients. Their mission is to provide essential physical resources, emotional and research support in order to obtain a better caring environment for Cancer Patients in the Illawarra. Comprising of over 200 unpaid volunteers, and working from the Illawarra Cancer Care Centre in a donated room, 100% of funds raised by the group are spent within the Illawarra for their services.
They also provide a transport service to transport approximately 180 cancer patients per month to and from treatment and medical appointments. The service operates from Albion Park in the South through to Helensburgh in the North. Due to lower immune systems after chemotherapy and radio therapy, often public transport is not an option for many patients using this service due to possible risk of infection and further illnesses. Patients are driven individually to appointments, and volunteer drivers wait for their appointments to finish before driving them back to their homes. To date their volunteer drivers have transported over 16,500 patients for treatment which demonstrates the huge need for the service in the region.
"For over 30 years this service been provided, via a referral from the hospital to our volunteer driving coordinators. A driver gets allocated to provide the service to the patient, collects the patient contribution, undertake the journey, and logs their mileage,' said Illawarra Cancer Carers president Geoff Failes. "Patients are requested to pay a small nominal fee for the service usually of a few dollars, but this patient contribution does not cover the entire reimbursement of the drivers. Volunteer drivers use their own vehicles to transport cancer patients in the Illawarra and are reimbursed for their personal vehicle use."
The cost of delivering this program is approximately $54,000 per year, which until now has been provided via fundraising by the Illawarra Cancer Carers, and individual donors.
After a submission by the Cancer Carers to the Illawarra Community Foundation from funds raised in the i98FM Illawarra Convoy, the group received a $54,000 donation to cover the costs of this program in the region for the next twelve months.
"The Illawarra Cancer Carers do tremendous work within the community for cancer patients, and local hospitals. This patient transport program is vital for so many patients across the Illawarra and we are proud to carry on Al Doherty's legacy by supporting this program with a $54,000 donation," Said Convoy founder Marty Haynes.
This isn't the first time Convoy have assisted the Illawarra Cancer Carers. In 2019 Convoy funded the patient transport program, before Covid-19 restrictions meant the program had to cease until restrictions eased. The Illawarra Cancer Carers also received a new 22 seater bus, and a new Ford Transit van to assist their wheelchair hire program.
Of course we could not run this program without the support of hundreds of volunteers right across the region," said Illawarra Cancer Carers Treasurer David Berry. "We're all volunteers here, with a passion for helping others who are in difficult situations." If you share that passion too, and would like to get involved,information and contact numbers can be found on the http://illawarracancercarers.org.au/ website.
Funding information for groups and charities who work with patients with potentially life threatening medical conditions is available on the www.illawarraconvoy.com.au website.