A brand-new Convoy Shop unveiled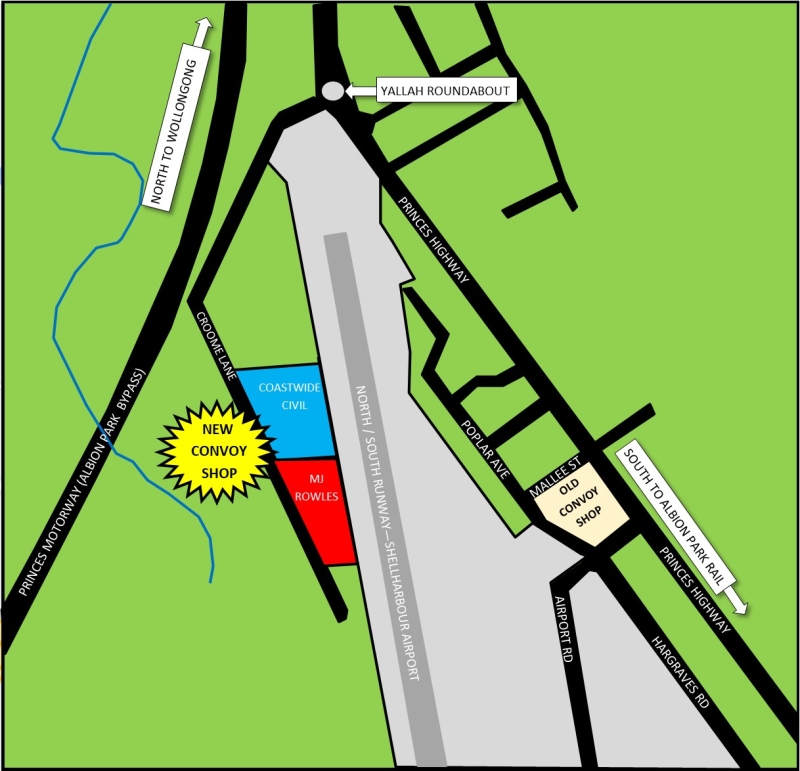 A brand-new Convoy Shop unveiled
13 October, 2023
This morning, i98FM Breakfast Show hosts Marty Haynes, Christian McEwan and Bella Leone helped to launch the brand new i98FM Illawarra Convoy shop and headquarters located at Croome Lane, Albion Park Rail.
Registrations for Trucks and Motorbikes are now open and cost $50, with a complimentary event t-shirt included and now registrations can be done both online and in person at the new Convoy Shop. Participants can also select from a huge range of Convoy merchandise including stubbie holders, truck flags, hoodies, hats, motorbike patches, baby clothes, custom truck flags and more.
A wide range of works, services and products have been provided to get the new shop operational have been provided from a number of local businesses
"It's been great to see so many businesses come on board to help get the new purpose-built Convoy headquarters ready for this year's event." Said Convoy founder Marty Haynes. "We've had MJ Rowles donate the building for us to use, and donated products, skills and labour from; Bluescope, Ranbuild, Coastal Windows and Doors , Apex Custom Floor Coverings, TAK Shed Co, South Coast Decorative Concrete Supplies, Kebsen Fabrication, United Building Products, Pipe and Engineering Supply Co, Universal Flooring Xtra Yallah, Aspiration Graphics and Leisure Coast Kitchens. The support and the Convoy spirit has been simply amazing!" said Marty.
The i98FM Illawarra Convoy Shop will be open from Monday to Friday 10am-5pm, and this Saturday from 10am-2pm, with weekend opening hours increasing as the event date gets closer. To find out weekend opening times call 1800 266 869.
"We are excited to officially open our new store today, and our amazing volunteers are ready to sort out all your Convoy registration and merchandise needs", said Convoy manager, Mark Rigby. "We have some of the most passionate, loyal volunteers within our shop at Convoy, who do an amazing job, registering participants selling our Convoy merchandise and engaging with our supporters. We love seeing the support of the community, and hearing the stories that people provide us about trucking, motorbikes, and often their own personal journeys with medical conditions, and the reasons they are passionate about supporting our cause. We often have the families we support come into our shop and our volunteers, and it's a pleasant reminder of why we do what we do."
For those who cannot make it to the new Convoy Shop, registrations and the full Convoy merchandise range can also be purchased on the Convoy website, where they can receive free delivery thanks to Aramex and the amazing courier; Stu "Chicken Legs" Moore.
"Over the last few years our online merchandise store and online registrations have been essential to get our merchandise out to the public. Nowadays you don't even have to leave your home, to get your truck or bike registered and receive all your merchandise for Convoy and we have people registering and ordering from all over Australia!" said Convoy Founder Marty Haynes. "Register and grab your merchandise, in person at the new shop, or on the website, and on Sunday 19th of November, we've got ourselves a Convoy.
To stay up to date with all things Convoy head to www.illawarraconvoy.com.au