2021 i98FM Illawarra Convoy launches merchandise range, raffles and silent auctions for the year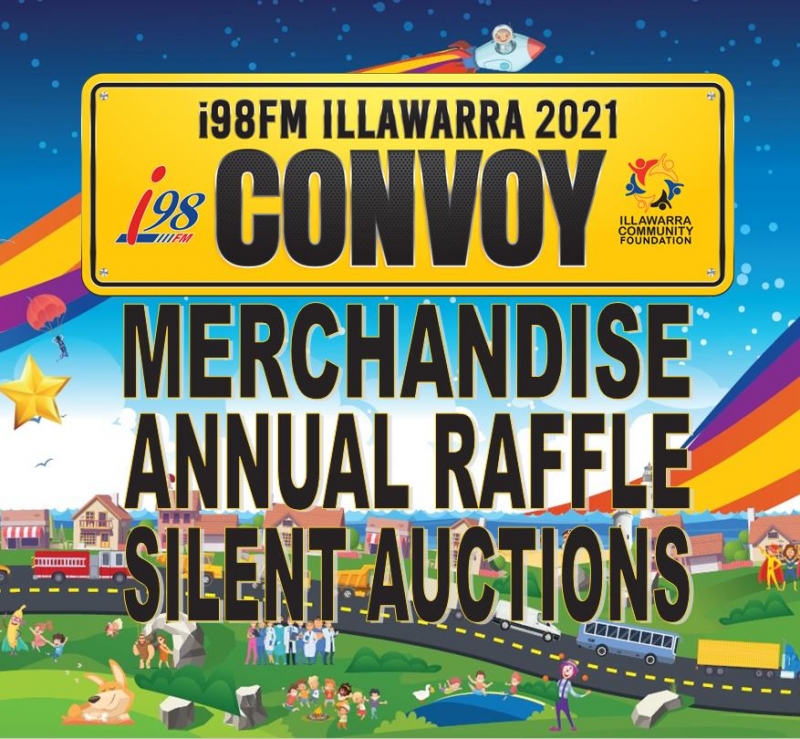 2021 i98FM Illawarra Convoy launches merchandise range, raffles and silent auctions for the year
5 October, 2021
The fresh new 2021 i98FM Illawarra Convoy merchandise range is now available for purchasing online through the www.illawarraconvoy.com.au website, including the always anticipated annual Convoy event shirt, this year in Royal Blue! This year's Royal Blue shirt features the top 30 fundraisers who donated to 2020's Convoy at Home. "It's great to see a whole bunch of companies on the shirt this year, that aren't trucking companies or motorbike groups' said Convoy manager Mark Rigby. "It really shows that despite us not starting an engine last year, the
community still rallied behind Convoy to help us raise over one million dollars in 2020"
Whilst details regarding the running of the 2021 event have not been formalized just yet, the Convoy team are pushing ahead with fundraising via their merchandise range, their annual raffle and silent auctions.
"We've got a massive range of Convoy merchandise this year, with plenty of the favourite annual items such as event shirts, hoodies, truckers hats, stubbie holders and car flags' said Convoy founder Marty Haynes "We've also added some cool new items like cooler bags, kids backpacks, drink bottles, teddy bears and more, so there really is something available for everyone"
At this stage the Convoy Shop, corner of Airport Rd and Princes Highway Albion Park Rail isn't open to the public due to Covid-19 and current restrictions and items can only be purchased via the online merchandise store on the convoy website www.illawarraconvoy.com.au
"When restrictions change and allow the opening of the retail store at Albion Park, our awesome team of volunteers will be ready to go' said Convoy manager Mark Rigby. Thanks to Aramex, the delivery of all orders for Convoy is provided free of charge. "Nadine, Michael and Stuart from Aramex, have been massive supporters of Convoy for many years not only delivering all our merchandise but also donating to Convoy each year.' Said Convoy manager Mark Rigby.
It's also been another tricky year for Convoy fundraising this year due to Covid-19, and also for the community in general. "We've had a lot of our fundraising groups unable to run events like gala dinners, golf days, trivia nights, and their own raffles. Many of these groups had their event plans changed after already gathering donated items for their fundraisers, with one team this year having their event plans cancelled due to Covid-19 only two hours prior to it commencing," said Convoy manager Mark "We've given all of our fundraisers the opportunity to put these items up for silent auction non our Convoy website, and there's some amazing prizes up for grabs." Currently listed on the auction page are; signed framed sports memorabilia, custom fire pits, a solar package, skateboards, power tools, tickets to local attractions, surfboards, and plenty more being uploaded each day.
Whilst everyone is awaiting news on the status of the truck and motorbike Convoy, the Convoy team have also coordinated this year's annual Convoy raffle. There's over $19,000 worth or prizes available this year with the first prize being a Vespa Primavera Motorbike valued at $7500 donated by Motocity and MJ Rowles. Also on offer is a $5000 fuel package from Enhance, a $3000 air conditioning package donated by Cool Blue Air Conditioning, $2000 worth of Coles vouchers and much more. Tickets start at $5, and can be purchased via the website; https://www.raffletix.com.au/convoyraffle2021
"We are currently working hard behind the scenes on a number of options for Convoy this year, and will also be auctioning off the house that Convoy Built very soon, so it's going to be a big couple of months for Convoy.' Said Convoy founder Marty Haynes. "As soon as a decision is made regarding opening our Convoy office to the public, and the running of the i98FM Illawarra Convoy 2021, it will be announced on i98FM, WIN News Illawarra and the i98FM Illawarra Convoy website and social media accounts". Stay tuned for more details……