Zac's battle with Leukaemia
Zac's battle with Leukaemia
Three year old Zac's battle with Leukaemia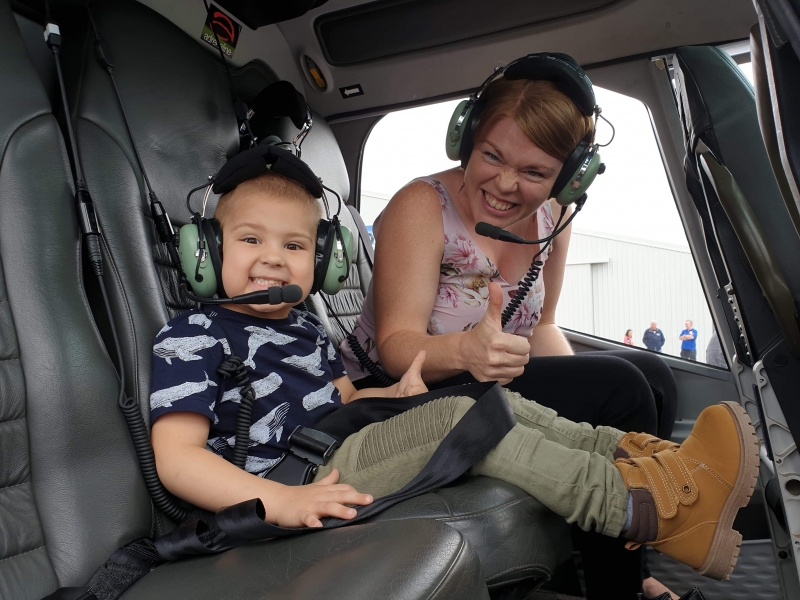 Late 2019, the Tomaz family from Albion Park had all been unwell with a cold/flu virus, however while the rest of the family fully recovered, their three year old son Zachariah remained sick with high fevers for an extended period of time. Another bug hit the family, and once again they all recovered except Zac. After 3-4 weeks of sickness and several doctors visits, the family waited hoping for Zac to recover however his list of symptoms began to grow. These included extreme lethargy, continued high fevers, night sweats, difficulty sleeping at night. He almost completely lost his appetite, began to lose weight and his face became increasingly pale, to the point where his skin had a greyish tinge. He also began to complain that his legs were hurting - so much so that he was barely walking at all. "We would carry our normally full-of-energy, very active 3yr old everywhere and had to use his old stroller again. When his Prep teachers also became concerned, we booked straight back in to the doctor and requested blood tests. Within two hours of those tests, our doctor was on the phone to us saying we needed to take him to Emergency immediately. He said he had already called ahead, Emergency Doctors would be waiting for us, and that our boy was very sick" said mother Lara.

Seven days before the family were in hospital with Zac, they discovered Lara was pregnant with their third child. Excited for the pregnancy but increasingly worried about Zac, the Tomaz family were then told Zac could possibly have Leukaemia. After a blood transfusion, a bone marrow test, and days of waiting for results, on the 5th of November at Sydney Children's Hospital, Doctors unfortunately confirmed the devastating news that Zac did in fact have Acute Lymphoblastic Leukaemia, or blood cancer.
"Zac's diagnosis changed everything for our family. Literally everything else had to be put on hold. We had to take time off work and began the exhausting tag-team of Mum/Dad taking shifts driving the 1hr and 45 mins each way to and from the hospital to sleep on a fold-out bed by Zac's side. Our older son Zion, 5 years, has spent many nights at his Aunty and Uncle's house as our family was often split three ways as we tried to manage one of us being at work where possible, the other at the hospital with Zac, and Zion at Prep or with family," said mother Lara.
An intense first five weeks of treatment, meant the family we were required to stay within an hour of the hospital for Zac's regular chemotherapy treatments, moving in with family closer to the hospital, living out of suitcases and organising themselves between several locations. All this at the same time as Lara was in the early stages of pregnancy, and dealing with her own associated scans and medical appointments.
Zac is almost 4 months in to an 8-9 month journey of intensive chemotherapy, after which he will go onto a 'maintenance' period where appointments start to become less often. All going well, treatment officially finishes a full two years after the start date. The frequency of treatment changes through the different stages, however all treatment involving chemotherapy requires trips to Sydney, either to be admitted to the ward for a period of days, attend the day clinic or pick up chemo medication to be administered at home. They also head to Sydney semi-regularly for lumbar punctures and bone marrow tests under general anaesthetic.
At times this has meant several trips a week, a costly expense to this young family. Zac's father works for NSW Police as a Communications Officer and his Mum is a singing teacher in two local schools and also runs a small hand-made business. Both parents have been forced to cut back their workloads as the unpredictability of Zac's blood cancer journey has meant they have bags packed for hospital, ready to go at all times.

Zac has been required to stay overnight at hospital many times over the course of the journey so far. The chemotherapy brings down his immunity, making him susceptible to catching common bugs/ illnesses. "We regularly check his temperature, and whenever it hits 38, this is a sign his body is trying to fight something but does not have the means to, so we go straight to hospital to start antibiotics. The minimum stay in this situation is 48 hrs, however we have never spent less than 5 days in hospital in this situation, and often up to 10 days at a time. This is particularly difficult on the family as it can be so unpredictable, making life impossible to plan. "said mother Lara. The situation has also been hard on big brother Zion as well. "Having to remain fairly isolated to avoid sickness of friends/family/strangers around us, the family has a feeling of 'missing summer altogether' and many of the fun things that the kids would normally experience on school holidays. Zion is a wonderful big brother to Zac, and the whole journey has really required him to go to a new level of resilience, adaptability and flexibility with our often-changing
situation."
"Zion prays each night for his little brother's 'blood to get better', and that he 'won't be sick or have to go to hospital anymore'. He encourages Zac with the medicine he has to take at home, giving him a 'countdown' to help him be brave and swallow it quicker," Said mother Lara "We explained the situation to Zion by saying that Zac's blood is sick, that he has some bad blood cells (cancer) that we need to get rid of with lots of medicine, and that it will take a long time. We have a great children's book from the hospital called 'Joe has Leukaemia', and there are several simple animated videos on YouTube to explain the situation. Both boys can tell me all about the role of red blood cells, white blood cells and platelets,' said Lara.

A submission for support was made to the Illawarra Community Foundation, made possible from funds raised during the i98FM Illawarra Convoy. The request was granted with food and fuel vouchers being provided to the family to ease the financial burden of Zac's ongoing treatment.

On hand to assist with the presentation, were the team from Touchdown Helicopters, who have been actively supporting Convoy for many years, who also surprised the family with a quick helicopter joy flight to lift Zac's spirits before another round of Chemotherapy on Wednesday.
With the Tomaz family's third baby due in mid-June, Zac will most likely not quite be finished with his intensive chemo before the baby arrives. "It has been difficult processing the rollercoaster of emotions with everything that has been happening, as we are both incredibly grateful for this beautiful blessing but also apprehensive about the journey of having a newborn and cancer patient at the same time! It has, and will be, quite the juggling act," said mother Lara "The support being provided by Convoy & Illawarra Community Foundation is of enormous help to our family. With both increased expenses and decreased income, we were quickly experiencing financial stress. We literally could not have done this journey without help, and have been so overwhelmed by the generosity and support of complete strangers who have given into this fantastic initiative to help families like ours through the toughest challenge we have experienced!"
Funding information for individuals and families affected by potentially life threatening medical conditions is available on the www.illawarraconvoy.com.au website.