Two of eight children with complex medical conditions
Two of eight children with complex medical conditions
The McLellan-Zalunardo family from Tullimbar have 8 children aged from 9 months -17 years old, with two of these suffering from complex medical conditions.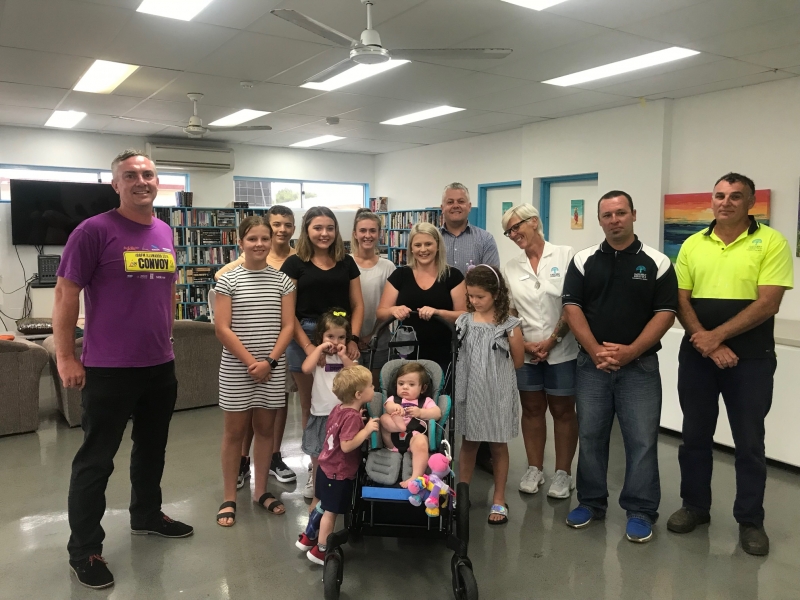 The McLellan-Zalunardo family from Tullimbar have 8 children aged from 9 months -17 years old. With eight children in the family, mother Elizabeth's full-time role is caring for the children, while her partner Matt (A police officer) works to cover the living expenses for the family. Many would say looking after eight children would be a task on its own, but on top of this they also have two of their youngest children suffering from complex medical conditions.
Marlie is the youngest of the eight children at 9 months of age and has congenital neuropathis (inability to swallow). Shortly after birth she had a feeding tube inserted in her stomach, and suffers from motility disorder which affects gastric emptying. She has been sick since 5 weeks of age and her ongoing prognosis is unclear. To make matters worse she also suffers from Hydrocephalalus (fluid on the brain). Marlie is also on medication to prevent seizures.
Marlie's brother Joshua is 2 years old. When Joshua was born he was diagnosed with a very rare skin condition that has required a trip to Melbourne to treat. In addition to this Joshua also suffers from Cerebral Palsy, has a periodic limb disorder and has endured 6 surgeries
in the past 18 months.
Both children are being cared for by their parents with support from several paediatricians and subspecialists for their complex conditions. This ongoing medical support means the family are required to travel to Sydney often; sometimes many times a week, incurring a significant financial strain due to mounting fuel and parking expenses.
"Our journey is not what we planned or could ever expect but we have adjusted to make the most of every day and we are blessed for what we have as a family," says mother Elizabeth. "The kids smile and love for life make the hard days easier."
The family submitted an application to the Illawarra Community Foundation to support their food and fuel costs, from funds raised during the i98FM Illawarra Convoy, to alleviate some of the financial pressure felt by Marlie and Joshua's ongoing treatment costs. The Illawarra Community Foundation funding committee agreed to support the family with their request providing them with both food and fuel cards to the value of $4000. The presentation of vouchers was held at Oaklands Village, whose residents raised $4500 throughout the year for Convoy to take part in the lead truck pack, by conducting a variety of fundraising activities within the village.
"2018 was the second year that Oaklands fundraised for Convoy, it's always nice to be able to help a Local charity especially one as awesome as Convoy that you know goes to help so many kids and their families." Says Oaklands Village support community manager, Donna Casini. "We as workers here at Oaklands wouldn't be able to donate anywhere near the amount we do without the wonderful support of our residents. Being able to actually meet the kids and their families is the icing on the cake. We often give but you never actually know where your money is going but to be able to see the faces of the people we're helping is just awesome."
The McLellan family have been supporters of Convoy for a number of years, and are thankful for the support received from the community and Convoy. "All ten of us went to Convoy last year. I even ironed Convoy patches onto shirts for Marlie and Joshua to show their support," says mother Liz. "In my opinion convoy is the most meaningful, and engaging community based event that I have ever seen. The hearts of those guys who participate every year are massive. It is decent people doing good things for others. We would like to pass on a huge thank you to all involved and your assistance to us. It is greatly appreciated."
Funding information for families and individuals affected by potentially life threatening medical conditions is available on the www.illawarraconvoy.com.au website.
"This large family from Tullimbar, in the homeland of Convoy, really needed some support to cover their food and fuel costs,"said Convoy founder and i98FM Breakfast host, Marty Haynes. "We hope the food and fuel cards can assist the family throughout the year and we are proud to support families like the McLellan-Zalunardo's through difficult times"