Quade's fight against kidney cancer
Quade's fight against kidney cancer
Quade's fight against kidney cancer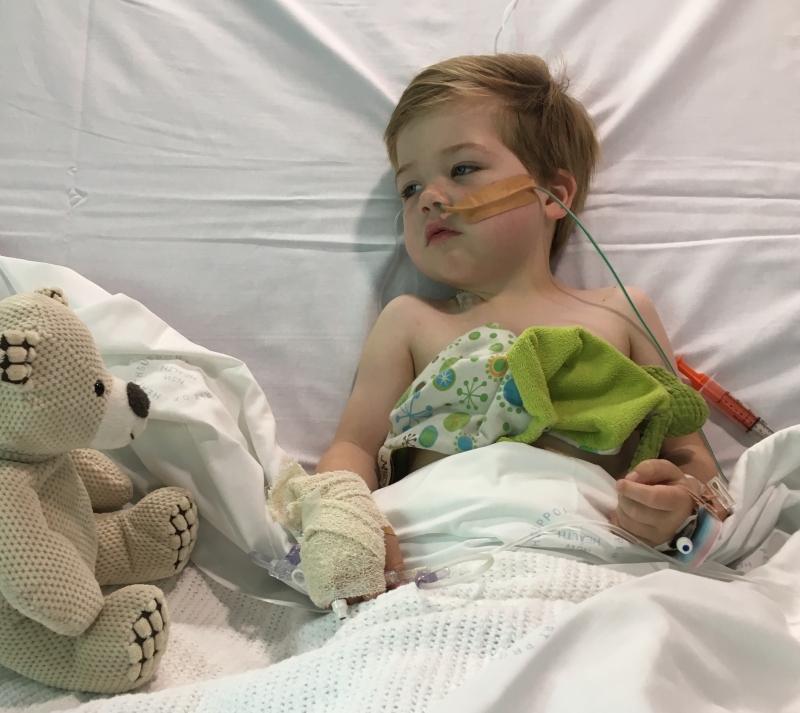 Back in September of 2017, at 3 years of age, Quade Sharman from Woonona was diagnosed with a stage 2 Wilms Tumour, which is also known as Nephroblastoma (cancer of the Kidney's). Upon the operation in early October, the surgeons successfully removed the tumour (which weighed 842 grams and was 10x11x9cm in size) from Quade. This came with the consequence of losing one of his kidney's in the process. Quade has a horizontal scar that runs across 70% of his stomach region, and another vertical scar from the procedure – some definite war stories to tell when he grows up!
Quade currently undergoes chemotherapy on a weekly basis (Tuesday) up at Sydney Children's Hospital, Randwick. This will be the case for 19 weeks, and all going well, Quade will receive his final treatment on 19th February 2018 – a date like any family going through chemotherapy is looking forward to – the end! Since Quade has commenced his chemo treatment, he has unfortunately been a regular guest at Wollongong Hospital Children's Ward. Following the chemotherapy treatment, the following Wednesday afternoon (like clockwork) Quade's temperature rises above 38deg, which means a minimum 48hr stay in Wollongong.
"This is where the major limitations / challenges occur for us as a family. We are trying to make not only our son's life as normal as possible, but also our daughter Adelle, and us as a family', says mother Kylie. "Although we are somewhat fortunate that Quade is close by at Wollongong Hospital, the stresses and strains still occur for us as a family as we have a 6 year old daughter who currently goes to Kindergarten at St Joseph's Bulli, and my husband and I commute to Sydney for full-time work. We are blessed to have both sets of parents, close friends and family in the region to support us, although we do have some minor financial burdens."
Despite living 1.5 hrs away from Randwick Hospital the family have been unable to qualify any accommodation assistance. This meant travelling back and forth to Randwick daily during Quade's time at the hospital to ensure their 6 year old daughter; Adelle had as normal life as possible, and got to see Mum or Dad at least daily whilst Quade was in Hospital for the surgery procedure. Additionally the fuel and parking expenses continued to add up on a weekly basis with travel to and from Woonona for ongoing Chemo treatment.

After submitting an application to the Illawarra Community Foundation for the funds raised in the 2017 i98FM Illawarra Convoy, the family will now receive fuel & food vouchers to help reduce their financial strain.
"We have been extremely overwhelmed with the support of family and friends, we have had dinners, and fresh fruit and veggies left on our door, friends going over and beyond to assist in entertaining our daughter and keeping her mind occupied around hospital stays, and many other kind points of assistance that meant the world to us and made our lives just a little easier. Says Quades mother Kylie. "And now this gracious support from i98FM Illawarra Convoy and the Illawarra community. We are so very appreciative and sincerely grateful to all involved"
"It is unfortunate that Quade has to endure so much treatment away from his home at such a young age" says i98FM Convoy Manager, Mark Rigby. "I have a young son myself and cannot imagine the emotional and financial stress that children affected by life threatening medical conditions
and their families go through every day. The Illawarra Community Foundation is proud to provide the family with some support from the funds raised during Convoy"
Funding information for is available on the www.illawarraconvoy.com.au website