One step closer for Clara
One step closer for Clara
Clara and her mum Julie receive support from the Illawarra Community Foundation, getting her one step closer to a wheelchair accessible vehicle.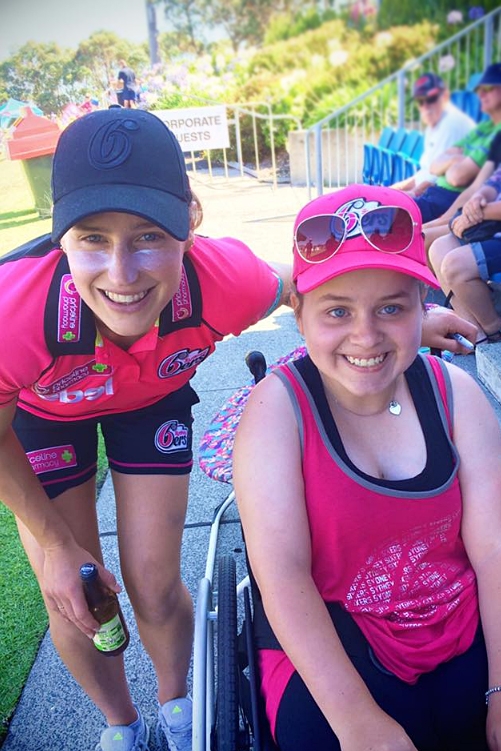 Clara Bates is a bubbly 15 year old from Kanahooka who lives with Spastic Quadriplegia Cerebral Palsy. This affects her whole body and she requires significant support for most activities in her daily life. Her personal care, interests, learning and mobility are totally reliant on adults around her, in particular her mother Julie. Clara also has a significant hearing impairment requiring the use of hearing aids.
Clara is in Year Nine at Figtree High School and is a very clever and determined girl with many hopes and dreams. She loves cricket, boccia, and swimming. She does her best to not let her disability impact on her having an active and happy life. However, without adaptive technology and equipment around her, she's restricted in developing the real, age appropriate independence she's desperate for. Right now, there's one major thing stopping her in that pursuit.
Clara's physical disability means she's dependent on full time support and uses a variety of equipment for mobility, including both a manual and power wheelchair. She has a power wheelchair at school and uses a manual one at home and in the community. The power chair gives her the independence freedom and ability to engage in appropriate activities. However, it can only be used at school as her mother does not have a vehicle to transport it. Clara's mother Julie is required to lift her in and out of the manual wheelchair and into the car.
The family has raised just over $7200 to put towards a wheelchair accessible vehicle, and requires approximately another $10,000. A friend of the family, Toni Howard, applied for support for the family via the Illawarra Community Foundation from the funds raised during Convoy. The funding committee agreed to cover food and fuel costs to allow the family's funds to be directed to the purchase of a more suitable vehicle.
"We are proud to support Clara and her mother with food and fuel vouchers," said Convoy founder and i98FM Breakfast host, Marty Haynes. "We hope by freeing up these expenses for the family, they can purchase a vehicle they require sooner rather than later"

Mum Julie says "Purchasing an accessible vehicle has always been a bit of a pipe dream. We're so grateful to Convoy for taking the pressure off financially and allowing me to save those funds that'll help us get that little bit closer to making it a reality."
Funding information for families and individuals affected by potentially life threatening medical conditions is available on the www.illawarraconvoy.com.au website.