Oliver "the king of C3S" receives support from Convoy!
Oliver "the king of C3S" receives support from Convoy!
Oliver was diagnosed with a very rare life threatening illness; Tafro Syndrome, a severe inflammatory disorder, which required many trips to Sydney and ongoing treatment.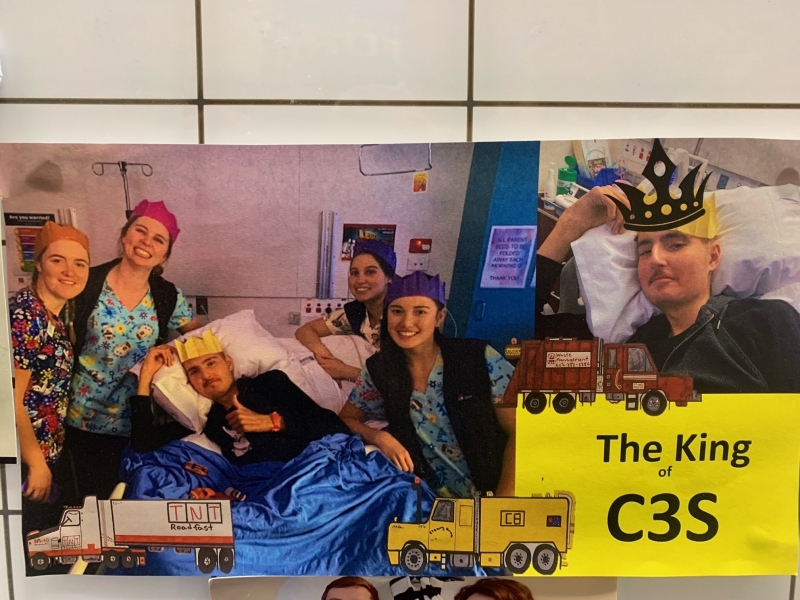 Oliver receives support from Convoy
In March 2020, 15 year old Oliver from Balarang presented to Sydney Children's Hospital, critically unwell and spent several weeks in the intensive care unit. After some time Oliver was diagnosed with a very rare life threatening illness; Tafro Syndrome, which is a severe inflammatory disorder.
TAFRO syndrome is a rare constellation of symptoms: thrombocytopenia, anasarca, reticulin fibrosis of the bone marrow, renal dysfunction, and organomegaly.
This diagnosis of Oliver's very rare condition was a difficult one as Oliver's parents and the doctors treating him could not understand from where it had come from and how it had affected such a healthy young man. "When we finally got the diagnosis we were so determined to get through this as a family & be as positive as we could be for each other,' said mother Sindy.
The doctors don't know what triggered it & don't know if it would come back but hopefully with this treatment will keep it subdued. Doctors have gotten their information from overseas cases because as there has only been one case here in Australia to date & this case was a much older person than Oliver. Doctors have advised after treatment that patient is recovering well.
As a result of this condition Oliver suffered many critical moments that were extremely difficult for the family, confronted with the fears that the outcome for their son could be fatal. Oliver was an inpatient at Sydney Children's Hospital for 5 months, with his parents; Zoran and Sindy by his
bedside everyday supporting their son during his darkest hours. To remain by his side, both parents had to stop working, leaving their other two children; Samuel (10 years old) and Jaime (13 years old) In the care of their grandparents.Nurses warmed to Oliver during his treatment nicknaming him "The King of C3S" and adorning him with a crown!

The timing of this could not be much worse, with the Covid-19 situation meaning they were faced with numerous changes in day to day routines for Samuel and Jaime, on top of an already stressful medical situation with Oliver. With both parents not working bills, were still arriving, adding additional financial stress to an already emotionally exhausted family.
After 5 gruelling months in hospital Oliver is now back at home, deemed safe to be treated as an outpatient. He is currently engaged in physiotherapy to learn how to walk again and regain strength and mobility to the best of his potential and his condition requires ongoing rehabilitation and weekly trips to Sydney for treatment. He is also required to take a number of medications and requires equipment to support him within his home environment.
With Oliver's condition being so rare, unfortunately he is ineligible for other charities to support. A submission to Convoy & Illawarra Community Foundation was made by his Paediatric Social Worker at Sydney Children's Hospital, to help the family during this difficult time. The application was successful with the family receiving $4000 of Coles vouchers and $4000 of Caltex vouchers to help alleviate some of the financial pressure and allow them to pay the bills.
When Oliver was younger he would love to play with trucks & was so fascinated with them & still is to this DAY (in fact he wants to drive for Cleary Bros when he gets older!). Zoran has been a truck driver for 27 years he is known as "the Bone Man" of Illawarra.
"Oliver wanted to watch them every year without fail so we would all watch it on the side of the road & as the family grew we still would watch it. So Oliver asked his Dad Zoran "why aren't we in the convoy "?? " So in 2012 Zoran started to go in the convoy for Oliver, Jamie & Samuel & the kids
who needed it. While they would be in the convoy the rest of us would be on the side of the road waving & being emotional just thinking about the kids."
Every year without fail the family goes to the convoy office put in a donation & buy convoy merchandise. "Anything just to help the sick kids who look forward to it every year. So we have been in the i98FM convoy for 7 years & counting & we will continue to support them through thick & thin till the end. Once again thank you the i98FM Convoy for helping us when we needed it we really appreciate it"
"We are proud to support Oliver and the Tololeski family during this difficult time,' said Convoy Manager Mark Rigby. 'I have children myself and understand I would drop everything to ensure they have the support they need, just like Zoran and Sindy have,' said Convoy Manager Mark Rigby. "Unfortunately the bills still arrive, and we hope our support can ease that financial burden the family has endured and help them get back on their feet."
For funding information please visit the www.illawarraconvoy.com.au website.