'KYE'S CONVOY DREAM'TO BE THE FIRST TEAM EVER LEADING BOTH THE TRUCKS AND MOTORBIKES AT THIS SUNDAY'S i98FM ILLAWARRA CONVOY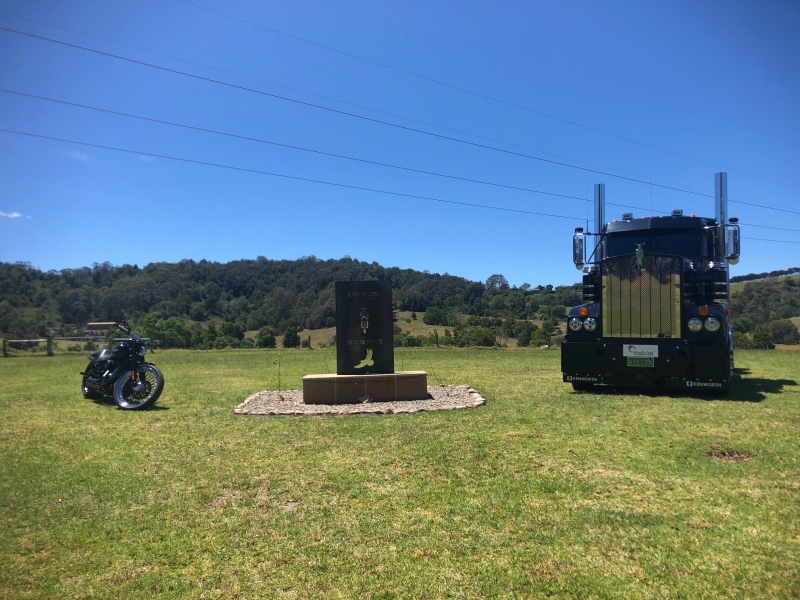 'KYE'S CONVOY DREAM'TO BE THE FIRST TEAM EVER LEADING BOTH THE TRUCKS AND MOTORBIKES AT THIS SUNDAY'S i98FM ILLAWARRA CONVOY
14 November, 2019
Emotions ran high on air this morning at i98FM as the Yates family secured the lead truck for the i98FM Illawarra Convoy, happening this Sunday, with a half a million dollar donation for Kye's Convoy Dream. In what is a first for the event, Peter and Sheridan Yates along with their two daughters will now lead both the motorbikes and trucks in the Convoy to remember 10 year old Kye Yates who sadly passed away in June this year.
Bidding for the lead trucks was carried out live on - air today with i98FM Breakfast Show hosts Marty, Christie and Crammy, following on from yesterday's motorbike auction. Sheridan and their family have been big supporters of the Convoy, funding the Yatcon Civil FMX Jam at the event's free family fun day since 2015.
The freestyle motocross display sees some of the world's best riders take to the track including Robbie Maddison, Michael Chucky Norris and Dylan McDonald.
For Kye, Convoy combined the two things that he loved most - anything on wheels and helping others. He often spoke of one day leading the trucks at the event and this morning's result will see his dream come true with Kye's family, friends and the Illawarra community banding together over the past few months to raise funds.
This morning on - air, Peter said "We had a goal. The team said we'd go lead and then it just kept getting bigger and bigger. Then this week, the decision was made with the crew 'Let's try and get both'. It was just the biggest memory we could have of Kye. It grew in strength and the team behind us…it's just unbelievable and we want to thank the whole community. Things have been tough over the past five months. My family have been really strong and everyone that is here today has been amazing in support. "In addition to the winning donation for the lead truck today, Team Dandaloo also contributed $280,000 , along with The People's Truck at $170,000, Illawarra Truck Repairs and Spares at $165,000 and MJ Rowles at $150,000.
The Convoy will depart under police escort from Illawarra Coal's West Cliff Colliery on Appin Rd at approximately 8:15am on Sunday and follow a route that will take them down Mt Ousley, through Warrawong and past Stockland Shellharbour then onto the Princes Highway, Albion Park. The action continues with a free Family Fun Day at Shellharbour Airport when the registered motorbikes begin arriving from 9:15am and the trucks at approximately 10am. The fun day will see performances by Aussie superstars The Veronicas, Hoodoo Gurus, local band Swells, country artist Jayne Denham and of course The Yatcon Civil FMX Freestyle Jam.
All funds raised go to the Illawarra Community Foundation which to date, has provided support to over 130 local families who have a member facing a life threatening illness. In addition to this, $1,000,000 has been donated to the redevelopment of the Children's Ward at Wollongong Hospital along with funding for essential medical equipment in the paediatric and kids wards. The palliative care ward at Port Kembla Hospital has also received funding for equipment Information about the Convoy and Illawarra Community Foundation can be found at: https://illawarraconvoy.com.au