i98FM's ILLAWARRA CONVOY RAISES OVER 3 MILLION DOLLARS!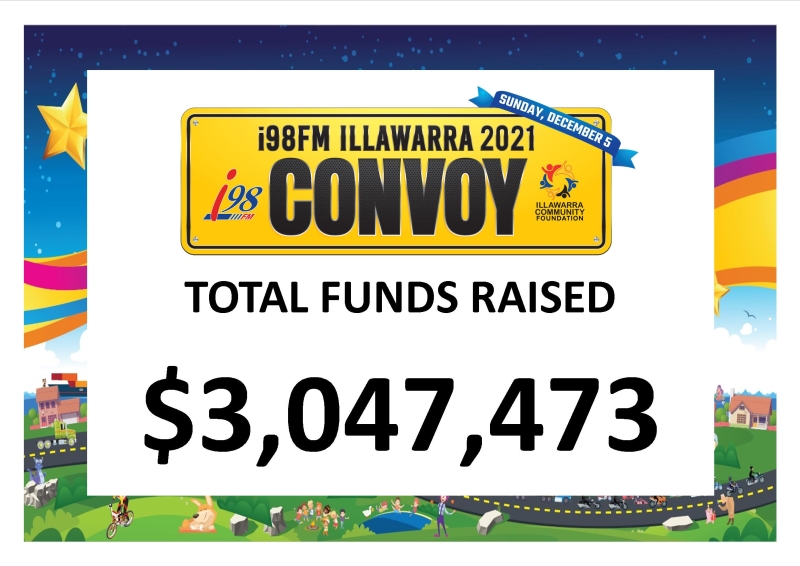 i98FM's ILLAWARRA CONVOY RAISES OVER 3 MILLION DOLLARS!
8 December, 2021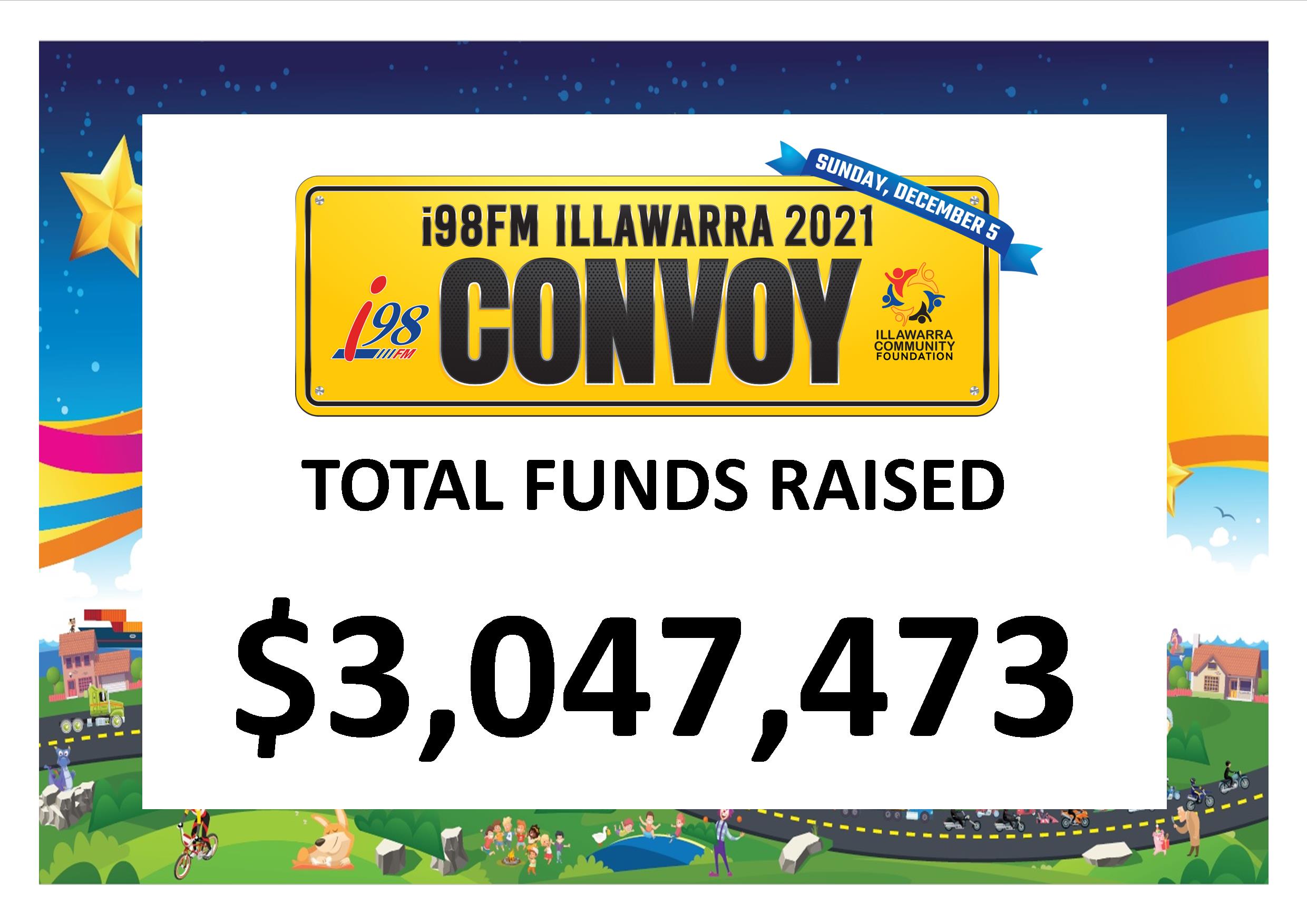 This morning the final tally for i98FM's 2021 Illawarra Convoy was announced with i98FM Breakfast Show hosts Marty Haynes, Christian McEwan and Bella Leone.

The Convoy which was held last Sunday December 5th, raised a record breaking $3,047,473!
The event which is now in its 17th year, saw 573 trucks and 596 motorbikes travel 70 kilometres from Illawarra Coal's West Cliff Colliery at Appin, through the streets of the Illawarra, to finish up at the front of the Convoy shop, Corner of Airport Rd and Princes Highway Albion Park Rail before dispersing home.
The usual free family fun day held at Shellharbour Airport was unable to proceed this year, but it didn't dampen the Convoy spirit with thousands lining the streets of the Illawarra in support.
Winning lead truck position this year was Kye's Convoy dream, a team dedicated to Kye Yates who sadly passed away in 2019, donated the winning bid of $95,000. In addition to the $95,000 lead truck bid, MJ Rowles contributed $84,000, Team Dandaloo $80,000 and Cleary Bros
$64,000, with another 28 groups also contributing to the lead truck pack.
Convoy's Family Fun Day sponsor and long term supporter; Bluescope also generously contributed their usual $100,000 sponsorship to Convoy despite the fun day not going ahead this year.
Leading the motorbikes in the Convoy and the overall highest fundraiser title with a whopping bid of $206,000 was Coles Illawarra stores with over 1180 staff taking part in year round fundraising within their stores from Corrimal to Ulladulla. Motocity/Kye's Convoy Dream took out
second place with a $50,000 bid, followed by Bikers 4 Heroes at $45,500, Superior Carr brothers at $30,000 and Ride for Hope at $18000.
The tally also included a phenomenal fundraising result for The House that Convoy Built which was sold via auction Saturday 4th of December, the afternoon prior to Convoy for $1,315,000. The idea of building a house for auction with 100% of proceeds going towards the Illawarra Community Foundation came about after fundraising group Team Dandaloo (consisting of Al Doherty, Rob Starcic & Paul Hadley) met with property group Sheargold and then pitched the idea to the Illawarra Community Foundation, before GJ Gardner Homes took over management of the build, and MMJ and renowned auction Ben Mitchell coordinated the sale of the house.
Those involved with the House that Convoy Built were overwhelmed with the support of the project, with over 120 tradies, businesses and suppliers all contributing to the completion of the stunning architecturally designed home. The house consisted of 130,000kg of concrete, 3,200m of timber frame, 430m of Colorbond roofing, 38,440kg of bricks, 1.240m of electrical wiring, 19,980 nails, 178lt of paint and over 1,900 hours of donated labour.
This morning's announcement now means that a total of $20,262,898 has been raised in the Convoy's 17 year history.
All monies raised in this year's event will go to the Illawarra Community Foundation who will distribute funds to local charities and families who are facing life threatening illness. Submissions for funding can be made at the Convoy website www.illawarraconvoy.com.au

Convoy Founder and i98FM Breakfast Show host Marty Haynes said of this morning's result "It never ceases to amaze me how generous the people of the Illawarra are. With so many of our lead truck and bike teams unable to run their fundraisers this year due to ever-changing Covid-19 restrictions, to achieve this result is crazy! The tradies and suppliers for the House That Convoy Built, helped diversify the fundraising for Convoy this year, in place of the lead truck and bike fundraising which has helped us reach this phenomenal result. This money will help to make a real difference to those who are bravely facing other illnesses and hardships in our community. To everyone who has supported Convoy, thank you…be nothing but proud of yourselves."
For anyone wishing to see more of this year's event, WIN NEWS Illawarra and the All Australian NEWS on the WIN Network are featuring special reports tonight. All reports can be viewed & shared from the WIN News Illawarra Facebook page
and donations can be made at www.illawarraconvoy.com.au
.