Cycle 1000 for i98FM Illawarra Convoy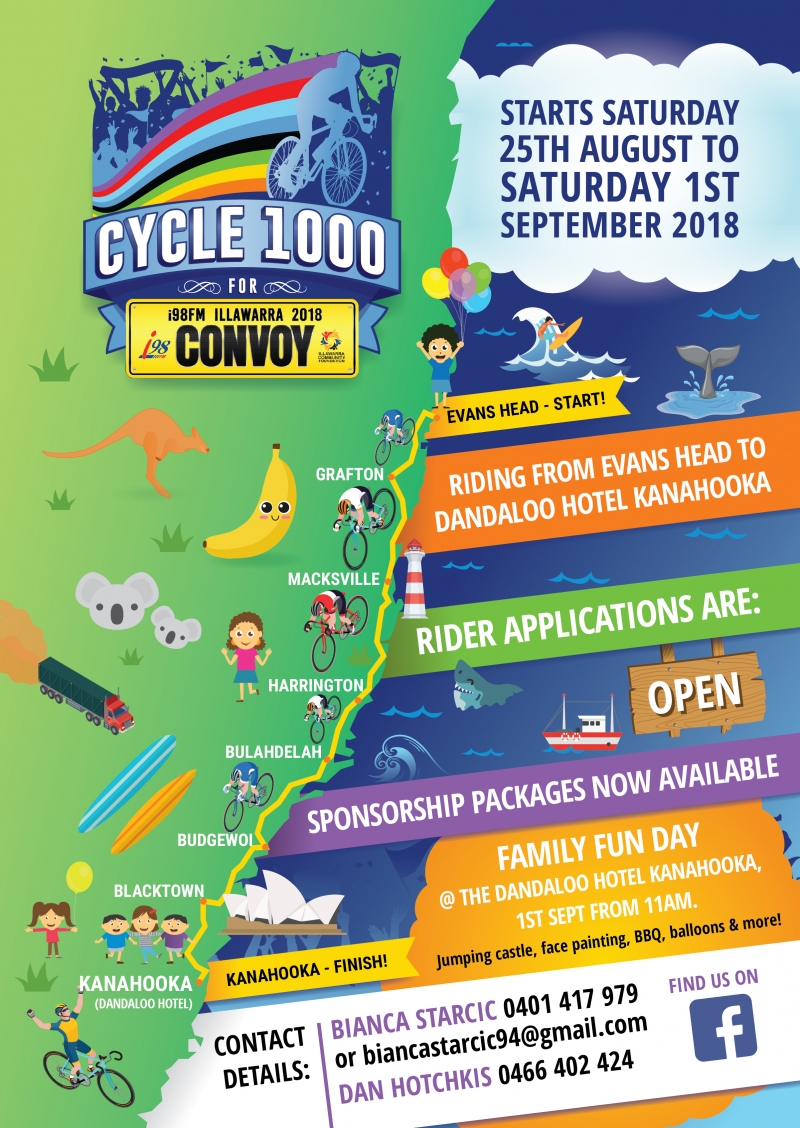 Cycle 1000 for i98FM Illawarra Convoy
19 April, 2018
The Cycle 1000 is a charity bike ride from Evans Head to Dandaloo Hotel in Kanahooka – 1000 kilometres, with the aim to raise much needed funds for the Illawarra Convoy then distributed to the Illawarra Community Foundation to disburse funds to ill and sick children and families in the Illawarra. The ride will finish with a family fun day at the Dandaloo Hotel, Saturday 1st of September. The day will include the arrival of the riders, BBQ, face painting, jumping castle, entertainment and more….
RIDER APPLICATIONS NOW OPEN!!!
Yes, you heard it right! Rider applications for the Cycle 1000 for i98fm Illawarra Convoy are OPEN!
To discuss an application or to receive an application form, you must email biancastarcic94@gmail.com Application forms and application discussions will only occur via email; or if you would like to discuss the ride you are welcome to call Dan on 0466 402 424!
To be eligible to participate in the ride, riders must complete an application form which will be emailed if you are interested! Riders will be cycling 1,000 km's from Evans Head to Dandaloo Hotel, Kanahooka over 7 days!!
Remember, there is only 20 SPOTS AVAILABLE! It is first in, best dressed, so if you are keen to ride, please email biancastarcic94@gmail.com straight away!
SPONSORSHIP PACKAGES ALSO AVAILABLE
The Dandaloo Boys would kindly ask that you consider becoming one of their Cycle 1000 2018 Sponsors. Joining as a sponsor to the Cycle 1000 is an ideal philanthropic opportunity for your organisation and provides the following benefits:
· Partnership and brand association with the i98fm Illawarra Convoy
· Enhanced corporate reputation
· Brand awareness and media exposure
· Possibility to reach a wider demographic & enhance customer experience
· Enhanced employee morale and teamwork
· Fully tax deductible sponsorship
· Reputation of charitable work in the Community
· Networking opportunities with other corporate organisations
· Improved community relationships through exhibiting the highest level of community responsibility and corporate philanthropy
2018 will see the ride in its first year, and the challenging task is for 20 cyclists to ride from Evans Head to Kanahooka from the 25th August to the 1st of September 2018. As many would understand, the physical and mental demands in participating in this kind of event is tough, but we look at the children and families who are doing it extremely tough and it gives us a sense of satisfaction to know that we are helping these families in their toughest times. By choosing to support the Cycle 1000, you will play a huge role in knowing that your money is going to help these families lives and relieve their financial burden.
If you are interested in becoming a sponsor, we look forward to hearing from you or if you have any questions or would like to discuss a tailored package, we would love to have a chat.