A Change to the 2020 i98FM Illawarra Convoy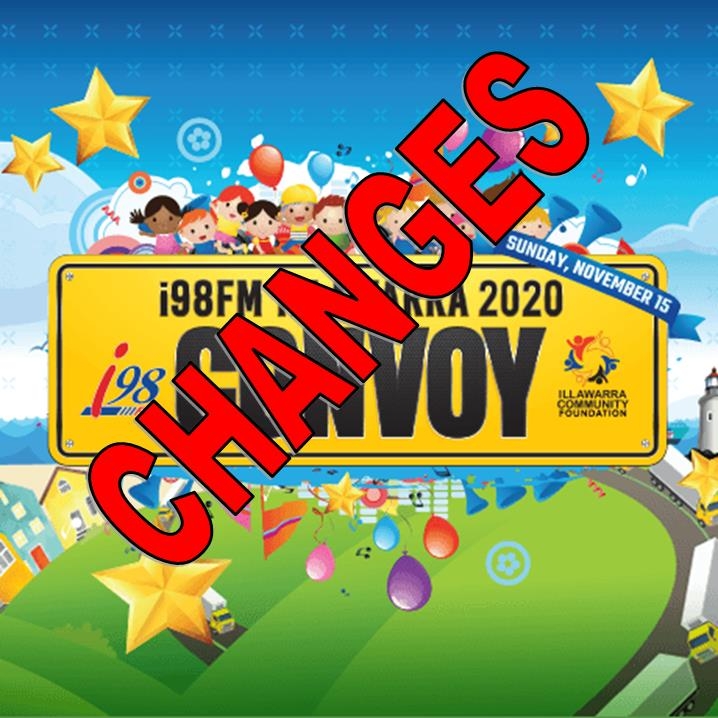 A Change to the 2020 i98FM Illawarra Convoy
31 August, 2020
The 2020 i98FM Illawarra Convoy, scheduled to take place Sunday 15th of November will look a little different this year. Regrettably, due to Covid-19 restrictions the largest truck and motorbike Convoy in the Southern Hemisphere, from Appin to Albion Park, and the free family fun day at Shellharbour Airport will not be going ahead as anticipated. "In an effort to minimise the spread of COVID-19, we feel this is the most socially responsible decision for everyone involved, and the Illawarra Community" said Illawarra Community Foundation Chairman Andrew Lancaster. "We know everyone looks forward to Convoy each year, but the current restrictions mean getting together in large numbers for events just isn't possible at the moment, and we join a long list of events that have had to change their approach this year. Although there is an alternative; you can celebrate Convoy this year with those close to you, from your own home, without the crowds"
With the backing of the WIN Network and i98FM, the 2020 i98FM Illawarra Convoy event will be replaced with a television special airing the same day as Convoy, Sunday 15th of November. "The special will feature historical Convoy footage, stories from the families, charities and hospitals Convoy has supported over the years, interviews with our donors & supporters, and the magical moments Convoy has provided over the years." said Convoy Founder Marty Haynes. More details on the television special will be advised soon via the WIN Network, i98FM and Convoy's
website and Facebook.
You can still donate to the i98FM Illawarra Convoy, and fundraising activities such as silent auctions, merchandise sales, raffles and more for the benefiting charity; Illawarra Community Foundation will still be undertaken.
"Covid-19 has affected everyone in 2020,' said Convoy manager Mark Rigby "Unfortunately though those patients affected by potentially life threatening medical conditions that Convoy supports, don't get a year off because of Covid-19. Their treatment still goes on, and the support we provide will not be affected by the decision to replace the physical event with the television event. For this reason we are pushing on with our fundraising. We know many people and businesses have been affected by restrictions this year, and if all you can do this year is buy some Convoy merchandise, or make a small donation we totally understand that." Said Mark
This is the first time in the events 16 year history that the truck and motorbike Convoy and free family fun day is unable to go ahead as planned. The event has soldiered on over the years through rain hail and shine, and has raised over $16 million dollars since 2005.
Merchandise can be purchased online at and a list of frequently asked questions can be found on the Convoy website https://illawarraconvoy.com.au/convoy-2020-frequently-asked-questions