Lila Coe's battle with Diamond Black Fan Anaemia
Lila Coe's battle with Diamond Black Fan Anaemia
Lila, one of two twins, is battling a rare condition; Diamond Black Fan Anaemia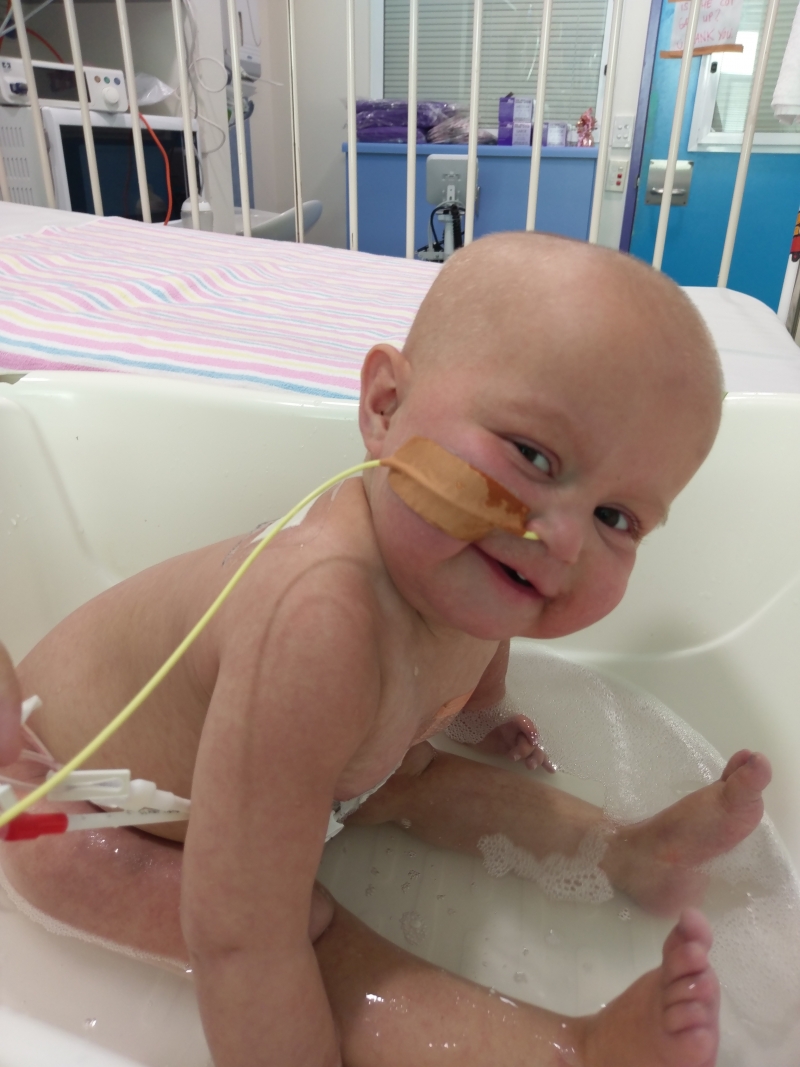 Lila Coe, from Albion Park Rail, is one of two 18 month old twins, and has another three siblings. In May 2017, at less than one year of age, Lila was diagnosed with Diamond black fan anaemia, which means the bone marrow malfunctions and fails to produce enough red blood cells which carry oxygen to the body's tissues.
"What complicates Lila's situation is she has not responded to the steroid treatment. Alongside this she has had issues with venous access and has had multiple issues with central lines which are used to give blood transfusions and with clotting'' said Paediatric Social Worker, Gemma Gleeson (Sydney Children's Hospital).
In December last year 18th Lila was admitted to hospital for routine checks leading up to a bone marrow transplant in January and on Wednesday the 20th Lila had surgery for the 4th time to have her line removed and replaced as they needed a good working one for transplant.
The same morning Lila was supposed to have a kidney test but when they tried to use her lines they weren't able to after trying for more than an hour, tests showed the line was blocked and she had an 8mm clot so that would mean another surgery which they did on Friday. They removed the existing line and placed a line on the left side which doctors said needed to work perfectly for a couple of weeks before heading into transplant on the 17th of January.
"We were discharged on 24th Dec so we were home in time for Christmas, but on Christmas morning when I went to bath Lila she had no line in she had pulled it out overnight," said Lila's mum Brooke. "There was no bleeding and no pain as she didn't cry. We were admitted again on the 27th for surgery to put another line in but her doctor said she had no Venus access left up the top half of her body. This meant that they would have to go through her groin and if they did that there would be more infections and clots. If it clotted they would pull out of transplant all together and would accommodate her as much as possible for cannulation for transfusions but we would pretty much have to watch her die."
On the 28th of December 2017, while many friends were out enjoying their Christmas presents, and time with family, Lila was in hospital receiving her 21st blood transfusion. The scheduled bone marrow Transplant was postponed until February as they needed her lines to work for 4 weeks without clotting first. To date Lila is still waiting on the bone marrow transplant.
This is an extremely intensive treatment with life threatening risk. This procedure will see Lila hospitalised for 6 weeks, possibly longer. Following this procedure she will be discharged to accommodation close to the hospital for regular check-ups at Sydney Children's Hospital in Randwick. As her immune system will be extremely compromised, a simple flu or fever will result in her attending the emergency ward at the hospital.
Lila's mother Brooke applied for support for the family via the Illawarra Community Foundation from the funds raised during Convoy. The funding committee agreed to cover food and fuel costs to assist the family with Lila's ongoing treatment. Brooke has also set up a facebook page https://www.facebook.com/Lila-Graces-Fight-Against-DBA-1970764359910701/ so people can follow her journey.
"This large family from Albion Park, the homeland of Convoy, really needed some support to cover their food and fuel costs," said Convoy founder and i98FM Breakfast host, Marty Haynes. "We hope the food and fuel vouchers can assist the family throughout the next year and are proud to support families like the Coe's"
Funding information for families and individuals affected by potentially life threatening medical conditions is available on the www.illawarraconvoy.com.au website.