Jett's support from the People's Truck & Convoy
Jett's support from the People's Truck & Convoy
After riding in the People's Truck in Convoy 2017, Jett from Gerringong now receives support from Convoy!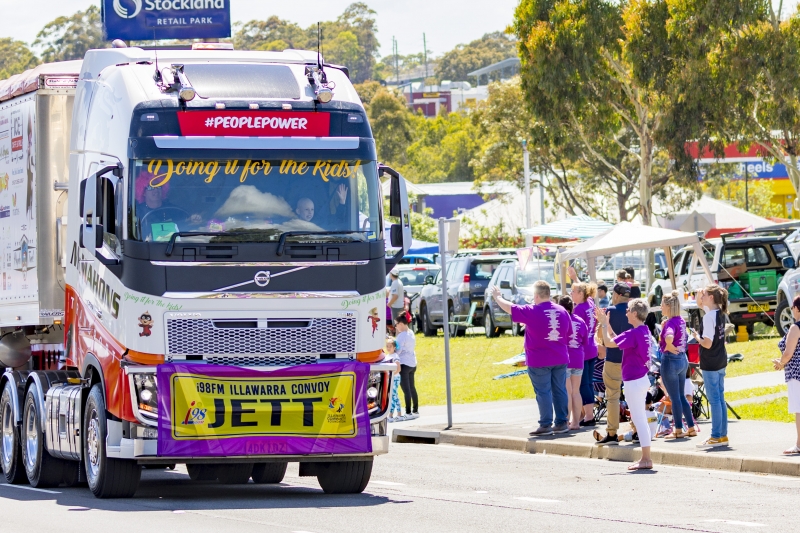 11 year old Jett Sager loves school, especially maths, and playing with his friends. A keen Rugby League player, he was in the top 4 leading try scorers in his aged group in Group 7. His life was similar to most 12 year olds until early 2018, when he was coming home from school "sick" regularly but then would be fine an hour later. He was quite pale, had headaches and had bruising to his legs. His parents thought he just looked like he had a virus but they did not know what was just around the corner.
"After a few trips to the doctors Jett came home from school one day and complained of pain in his groin" says mother Sally. "He had a bite on his testicle and we just thought he'd been bitten by an ant or bug. We made a GP appointment for the next day and once the GP saw the bite she sent us to Wollongong Public straight away." Doctors coordinated several tests to assist with Jetts diagnosis, including a routine blood test. "This is where we first got our first idea that not all was right. His HB and Platelets were non-existent. They struggle to cannulate him and a PACE call was made,"said mother Sally. He first attended Sydney Children's Hospital on 7th April 2018. Only two days later the family would receive devastating news, that Jett was diagnosed with Acute Lymphoblastic leukaemia.
The "mosquito bite" was actually a full infection and Jett had to be operated on straight away because it was spreading throughout his body. Jett was transferred to Sydney kids within 3 hours of being at Wollongong and operated on straight away.
This diagnosis and swift medical action came as a shock to the Gerringong Family. "We didn't see it coming. That first 6 weeks were so hard, as Paul (Jetts father) owns his own business and had to work, so me and Jett were often alone up in Sydney," said Sally. "The other kids stayed with Paul in Gerringong and my beautiful family helped him with school pickups and sport commitments." The Gerringong community rallied around the family and started a meal train so every night someone would drop off a hot dinner to Paul and the kids. "Paul and the kids would come and visit Jett and me every weekend which was nice but it was hard for everyone to watch him deteriorate. In the end we worked a system that best suited us and now Jett and I always do clinic and hospital stays together and Paul stays with the other kids at home. We find this works the best for us,"
said Sally.
Jett is one of four children. He has two brothers Lachlan (16 years) Preston (9 years) and a sister Leni (3 years old) Jetts diagnosis, treatment and subsequent absence from the family home has really affected his siblings. "Our 16 year old asked a lot of questions and we dealt with it the best we could", said mother Sally. "Our 3 year old Leni really struggled with me being away (as we had never been apart for longer than a day). She got really clingy and emotional every time she saw me and it broke my heart." Preston, who is closest to Jetts age seemed to be affected the most. "Jett is his best buddy they were always playing together and sharing a room. In one night his brother and mum disappeared for a few weeks at a time. When he did come to the hospital he saw a shell of his brother who looked different, sounded different and didn't have the energy to play with him. He couldn't verbalise his feelings and he bottled it all up,"said Sally.
Jetts treatment has seen him spend significant periods of time in Sydney Children's Hospital, which has meant lots of travel back and forth between their home in Gerringong and Randwick. The travelling, parking and loss of income during his treatment have meant the family have had to utilize savings, but these savings are rapidly depleting, and the everyday costs of food, petrol, and ongoing bills still arrive.
A submission for support was made to the Illawarra Community Foundation from funds raised in the i98FM Illawarra Convoy and the family has been granted $5000 worth of food and fuel vouchers. "As parents we all know that feeding our kids can be one of the most expensive things each week. With 4 kids (3 x boys and 1 x girl) our kids eat us out of house and home most weeks. The food vouchers will help so much by taking the pressure off to find the money to buy groceries and it's the same with petrol," said Sally

Currently, Jett has finished active treatment and is on maintenance treatment. It includes taking daily medication and monthly blood tests and clinic visits to Sydney. Doctors are still trying to find the right balance of medications to keep his condition stable.
Derek & Nicole McMahon, from McMahons Transport coordinate The Peoples Truck every year for Convoy. Aware of Jetts diagnosis and struggles, Derek invited Jett to join him in the Peoples Truck for Convoy 2018, and happily displayed a banner with Jetts name on it front and centre on the truck. "We are forever grateful to Derek and Nicole for the opportunity they gave Jett last year. He was in a really low point of treatment and was actually quite sick on the day. It gave him a big energy boost and it inspired him. Seeing all the community waving at him and cheering him on was amazing", said Sally. "It was "the best day ever" Jett says. "We love the idea of the people's truck where anyone can put their name on the side and be involved with convoy. Jett is really keen to raise some money this year for them so we will start brainstorming some ideas to help them out," said mother Sally.
Funding information for individuals and families affected by potentially life threatening medical conditions is available on the www.illawarraconvoy.com.au website.