Janaya's support from Convoy
Janaya's support from Convoy
Most years Janaya would watch Convoy from the side of the road and cheer on everyone but this year she has more reason to wave her flag for Convoy…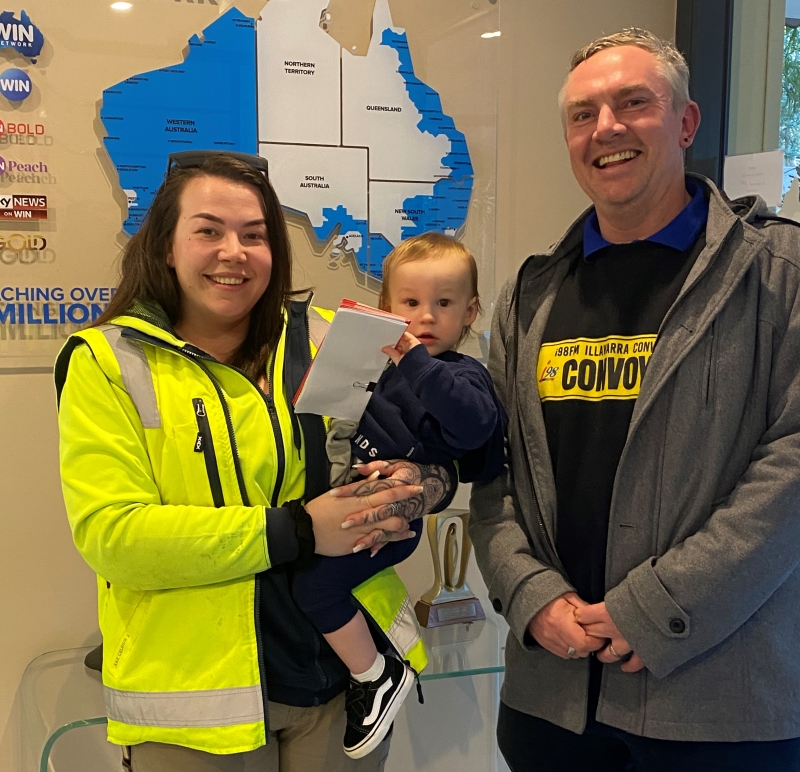 When 26 year old, Janaya Phillips from Berkeley noticed a small lump in her neck she didn't think too much of it. Over a couple of years it slowly had grown bigger and bigger and she then decided to take a visit to the specialist to get it checked out. After a visit to the specialist, it was decided that it was best to remove the lump even though he all believed it was benign and harmless.
It was November 2019 and after a post operation appointment, Janaya was given the unfortunate news that the lump they believed was benign was in fact an adenoid cystic carcinoma, a very rare cancer that forms most commonly in the head and neck with chances of returning. Adenoid cystic carcinoma (ACC) is a rare form of adenocarcinoma, a type of cancer that begins in glandular tissues. It most commonly arises in the major and minor salivary glands of the head and neck. It can also occur in the breast, uterus, or other locations in the body.
"Reality set in that I had cancer and I needed treatment', said Janaya. "It scared me quite a bit to think I had a 6 month old baby and how was I going to handle it. We got through the Christmas and New Year holidays and another appointment confirmed that treatment would start in February 2020. After a few treatments of Radiotherapy it started to take its toll. I was exhausted from running around after my son Jaelan and treatment." This treatment took place in the Wollongong hospital and consisted of daily visits, 5 days a week for 6 week. An exhausting, 30 sessions.
Janaya was working casually at the time and fatigue plus looking after he son was beginning to take its toll. Just after her treatment commenced COVID-19 hit and Janaya had to stop working because treatment had lowered her immune system, and she was at high risk of getting ill.
"I finished up treatment in April 2020 and having a big open wound on my neck, I'd never experienced pain like that before. The burn was unbelievable, I cried having to have my dressings changed every day. Even after treatment was finished, I was told it was still going to continue to work for another 7-10 days. All while being a single parent, it's one of the hardest life obstacles I've ever had to endure. If I didn't have the love and support from my amazing family and friends I'm not sure how I would have got through it all." Said Janaya
Back in 2014, when Janaya was 20, she had a double mastectomy and reconstruction as a precautionary measure because she is a carrier of BRCA2. BRCA1 and BRCA2 are human genes that produce tumour suppressing proteins. These proteins help repair damaged DNA and, therefore, play a role in ensuring the stability of each cell's genetic material. When either of these genes is mutated, or altered, such that its protein product is not made or does not function correctly, DNA damage may not be repaired properly. As a result, cells are more likely to develop additional genetic alterations that can lead to cancer.
Janaya is now back at work, full time at Prixcar as a vehicle processor and also working casually at the Dandaloo Hotel, who have been big supporters of Convoy for many years. "I've recovered quite well from treatment and keeping up with the appointments, we've just been keeping an eye
on the area for now.
After recommending Illawarra Community Foundation funding to Janaya, a social worker at Illawarra Cancer Care Centre assisted her with an application for support. The request was approved and Janaya received $2500 Coles food vouchers and $2500 Caltex fuel vouchers to help alleviate some of the financial pressure. "I'd like to say to all the people that come together and fundraise for convoy, I'm in awe of everything you do and astonished by the amount of love and compassion shown, that brings everyone together. It's amazing to see every year, and such an event I'm proud to be a part of. As for the love and support I've personally received by Convoy and the Illawarra Community Foundation brings me to tears. Months later and Jaelan and I are still being shown how much they care to help us and for that we are forever grateful. Thank you from the bottom of our hearts. Most years I sit on the side of the road and cheer on everyone but this year I think it's time I have a reason to get involved and Jaelan and I will be proudly wearing our convoy shirts and waving our flags with pride."