Convoy supports the Port Kembla Palliative Care Volunteer Service
Convoy supports the Port Kembla Palliative Care Volunteer Service
The Port Kembla Palliative Care Ward volunteers receive over 100 wigs and hair pieces for their wig library, plus vital medical equipment to enhance care of those in their final moments of life.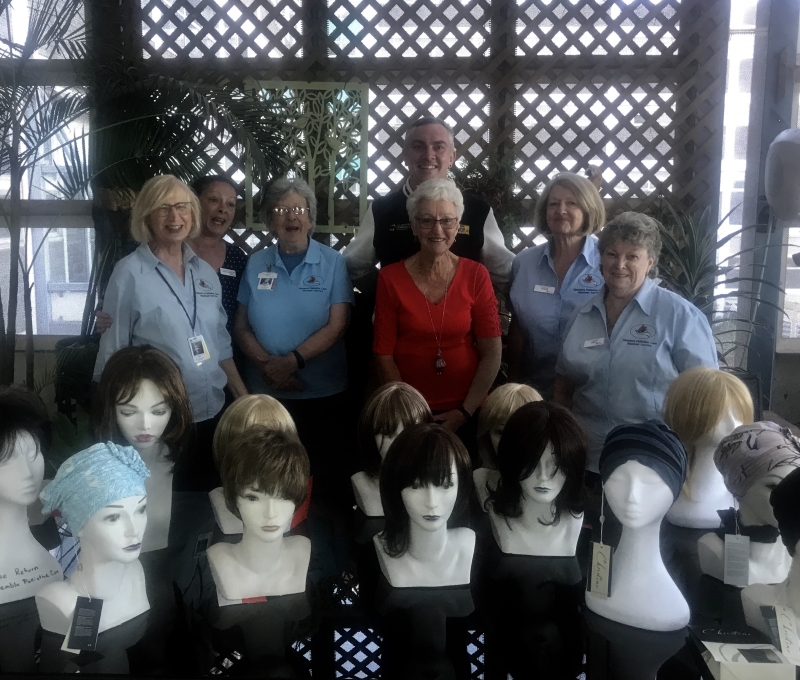 The Illawarra Palliative Care Volunteer Service, Inc has been supporting the Port Kembla Hospital palliative care ward patients for over 20 years. Comprised of up to forty volunteers, the service provides support, equipment and supplies for patients staying on the ward, or who are spending their final days at home. They also offer companionship, provide respite for carers, assist at meal times, and provide basic practical support.
As part of their support services, the volunteer service supports patients receiving chemotherapy treatment, which often results in hair loss. For patients undergoing treatment, and particularly women, losing their hair can be devastating and impact on their self-esteem.
The Port Kembla Wig Library was established by the Illawarra Palliative Care Volunteer Service, and is considered one of the most comprehensive, low cost wig and turban libraries in NSW. Patients, who may not be able to afford to purchase wigs or headwear, are able to solve their hair loss and subsequent loss of self-esteem for the price of a small donation.
"It's terrific to see the change in patients when they have been fitted with a wig. Patients come in at their most vulnerable and go out feeling like a million dollars! Thanks to the Illawarra Community Foundation patients will have even better choice." said Liz Inglis, President, Illawarra Palliative Care Volunteer Service, Inc.
Although known as a "library" wigs are not expected to be returned. At present the wig library has a return rate of approximately 40%. This is common for wig libraries as often when a patient dies, families have many other issues on their minds, and patients may have also given instructions
to be buried with their wigs. With such a low return rate, the wig library was becoming understocked and struggling to meet the service's needs. In addition to wigs, the service also provides turbans and headscarves to those not comfortable with wearing a wig. With volunteers relying on donations to restock the library, it was becoming quite a slow process.
And that's where the Illawarra Community Foundation stepped in, thanks to funds raised by the Illawarra community during the i98FM Illawarra Convoy. An application was made to support the program, and the Illawarra Community Foundation is now restocking the service with over 100 new
wigs, new foam display heads, and 119 new headpieces valued at just under $18,000.
"This is a very important service for patients encountering hair loss during treatment, which can be often overlooked for funding," says Convoy and Illawarra Community Foundation manager; Mark Rigby. "We are proud to support this service and understand the importance of self-esteem during what is an extremely difficult time for patients and their families. We commend the Illawarra Palliative Care Volunteer Service for operating this service for patients for over 20 years, and hope it continues for many more years to come."
In addition to the purchase of wigs and turbans for, the Illawarra Palliative Care Volunteer Service also applied for several items of equipment to enhance patient dignity and quality of life. Thanks to the Illawarra Community Foundation the ward also received $17,000 worth of equipment including; 3 oxygen concentrator systems to provide support to patients who have breathing difficulties, 1 premier two active mattress designed to provide relief and comfort to patients confined in bed, by promoting tissue recovery and pressure distribution, which minimises bed sores on patients, and a Bowman chair sofa bed which can be used by partners, parents or family members who need to be by their love ones in palliative care. These sofa beds can also be adjusted to the same height as the patients' bed, providing comfort for both the patient, and their loved ones.
"The Illawarra Community Foundation is proud to present these items of medical equipment to the Palliative Care ward today," Says i98FM Breakfast host and Convoy founder Marty Haynes. "These items will assist in providing comfort to patients and loved ones in very difficult times."
Funding information for charities and groups working with people affected by potentially life threatening medical conditions is available on the www.illawarraconvoy.com.au website.
For more information on the Wig & Turban Library call 4223 8128.