Convoy History
Convoy History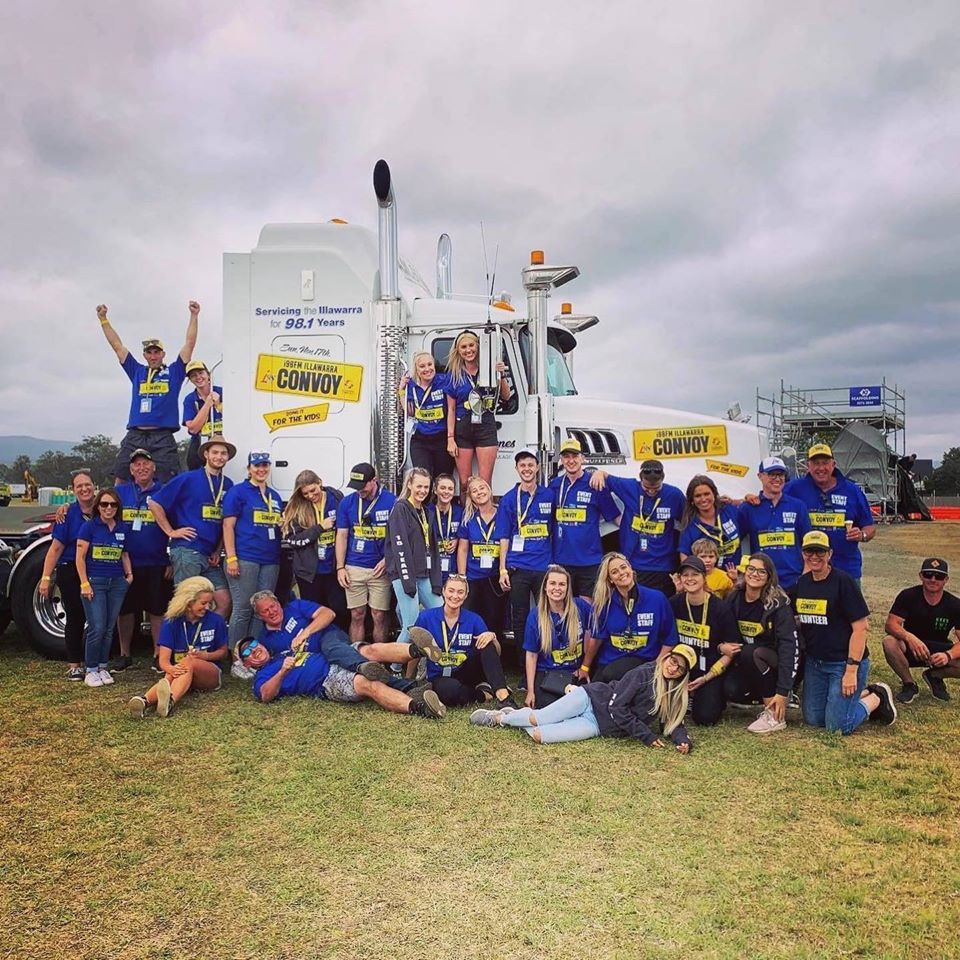 20 November, 2019
i98FM's ILLAWARRA CONVOY RAISES A RECORD $2,760,974.25!
Wednesday, November 20 2019
This morning the final tally for i98FM's Illawarra Convoy was announced with i98 Breakfast Show hosts Marty Haynes, Christie Hayes and Ryan Cram.The Convoy which was held last Sunday November 17, raised an astounding $2,760,974.25
The day saw 753 trucks and 913 motorbikes travel over 70 kilometres from Illawarra Coal's West Cliff Colliery at Appin, through the streets of the Illawarra, to finish up at Shellharbour Airport. The Convoy arrived for a huge free family fun day, featuring live entertainment from The Hoodoo Gurus, The Veronicas, Jayne Denham local band Swells and The Yatcon FMX Freestyle Motocross riders.
Each year in the days before the event, bidding takes place for who will lead the motorbikes followed by the trucks in the Convoy. For the first time ever, one group secured the lead in both groups with 'Kye's Convoy Dream'. The Yates family of Peter, Sheridan and their two daughters lysha and Bella were front and centre on Sunday to honour the memory of their son and brother Kye Yates who tragically passed away in June this year. The family along with support from friends and the local community raised an astounding $105,000 to lead the motorbikes and $500,000 to lead the trucks in order to fulfil Kye's longstanding wish of one day being at the front of the Convoy.
In addition to the above, donations from the truck and motorbike auction exceed last year's final tally of $2 million dollars before an engine had even started. By last Thursday, $2,243,245 had already been raised by The Dandaloo Team, The People's Truck, Illawarra Truck Repairs
and Spares, MJ Rowles, Coles Illawarra, Motocity, Superior Nutrition, Carr Brothers, Bikers 4 Heroes and many other local businesses who donated to the cause.
This morning's announcement now means that a total of $16,165,097.91 has been raised in the Convoy's 15 year history. All monies raised go to the Illawarra Community Foundation who will distribute funds to local charities and families who are facing life threatening illness. Submissions for funding and donations can be made at the Convoy website www.illawarraconvoy.com.au
Convoy Founder and i98FM Breakfast Show host Marty Haynes said of this morning's result "It never ceases to amaze me how generous the people of the Illawarra are. This money will help to make a real difference to those who are bravely facing other illnesses and hardships in our community. To everyone who has supported Convoy, thank you…be nothing but proud of yourselves."
For anyone wishing to see more of this year's event, WIN NEWS Illawarra will feature a special report tonight from 6pm.
Below are the figures for each year:
Year
No. of Trucks
No. of Motorbikes
Total funds raised
2005
Approx 110
Approx 100
$47,978.70
2006
Approx 250
Approx 150
$93,829.96
2007
500+
200
$179,555.45
2008
589
384
$287,967.70
2009
711
403
$341,487.33
2010
750
667
$536,234.75
2011
704
724
$691,570.01
2012
764
926
$1,034,921.54
2013
780
872
$1,191,816.22
2014
791
1,200
$1,539,907.00

2015

2016

2017

2018

2019

764

720

714

721

753

960

1020

931

965

913

$1,725,057.00

$1,805,306.00

$1,928,492.00

$2,000,000

$2,760974.25
Total funds raised since 2005 = $16,165,097.91