CONVOY FUNDS STAGE TWO OF CHILDREN'S WARD UPGRADE
CONVOY FUNDS STAGE TWO OF CHILDREN'S WARD UPGRADE WITH 1.2 MILLION DOLLAR COMMITMENT
CONVOY FUNDS STAGE TWO OF CHILDREN'S WARD UPGRADE WITH 1.2 MILLION DOLLAR COMMITMENT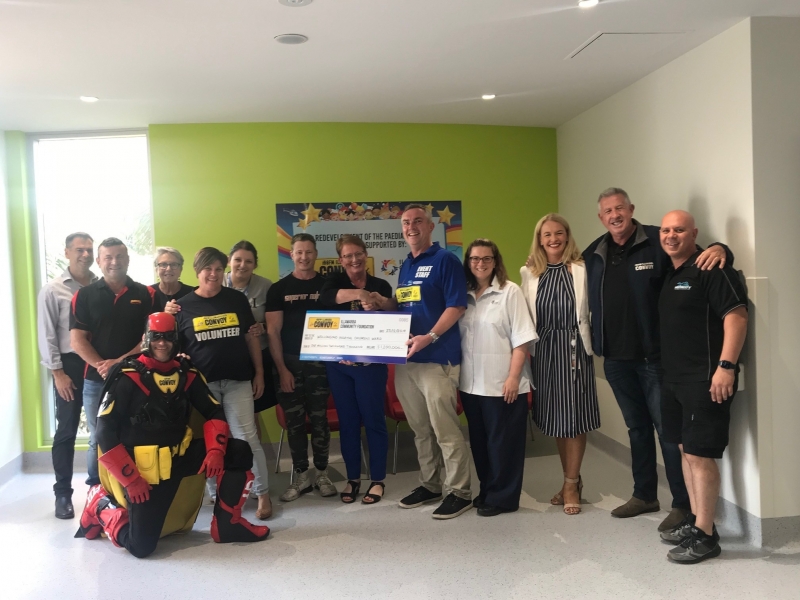 After the 2019 i98FM Illawarra Convoy's record breaking $2.76 million fundraising achievement, the Illawarra Community Foundation proudly presented Illawarra Shoalhaven Local Health District with a $1.2 million commitment for Stage 2 of the redevelopment of the Wollongong Hospital Children's Ward.
Stage 2 of the redevelopment includes; building a brand new playroom for children in what is currently an unusable section of the ward. It also involves the conversion of two current rooms into a special close observation area adjacent to the nurses' station, with one room equipped with the "Vision for Life" camera that will be used to communicate with NSW Neonatal and Paediatric Emergency Transport Service about very sick infants or children who need to be transferred to an intensive care unit.
Wollongong Hospital Children's Ward Nurse Unit Manager Julie Haines said the new work will make it easier for staff to care for children who are most in need of special care.
"This money will help us not only repurpose space into a playroom to make hospital stays a little brighter, it will also create more room for us to care for these very sick little people and their families,'' Ms Haines said. Ms Haines said to assist with ongoing training of staff, the creation of a clinical skills area will also be included in Stage 2 of the upgrade. "The Stage 2 redevelopment will include a clinical simulation room, to conduct regular emergency skills training, which helps staff keep their skills up to date while we look after some of the Illawarra's most in need children'' she said.
Additionally the refurbishment of a current four-bed bay, to a six-bed/chair medical day unit for food challenges, infusions and day surgery patients will also be undertaken as part of Stage Two. It's anticipated construction will begin in early 2020 and be completed by the end of the year.
"We are extremely proud to support Stage Two of the children's ward upgrade, to enhance the care of children within our region," says Illawarra Community Foundation and i98FM Illawarra Convoy manager Mark Rigby. "Approximately 3,500 children per year are admitted to the ward and several thousand go through the Paediatric Assessment Unit and Paediatric Outpatient clinics annually. Anyone who donated and contributed to Convoy this year should be very proud of what we are able to help the hospital achieve with the funds raised. We have seen the impact that Stage One of the upgrade funded by Convoy has made and we are excited to help enhance the quality of care for children within the ward by supporting the second stage of this 5 stage project."
Today's donation is on top of the $1,000,000 generously donated for Stage 1 of the redevelopment project in 2018 providing a state of the art family room where parents are able to have a rest, a drink and something to eat and new rooms for staff. Additionally $250,000 generously contributed from the Illawarra Community Foundation in 2017 enabled the Children's Ward to relocate the Illawarra Hospital School and make way for a new ward entrance, reception and clinic space. The Foundation has also supported the hospital with a new humidicrib, cough assist devices, electric cars for day surgery and continues to directly support many families affected by potentially life threatening medical conditions, who are unfortunately often regular patients in the children's ward.
Illawarra Shoalhaven Local Health District Chief Executive Margot Mains said it was exciting to be able to plan for the next stage of the ward upgrade.
"We are so grateful to Convoy, and the people who support their fundraising efforts, for helping us to enhance the care we provide,'' Ms Mains said. "On behalf of the children and families who benefit from Convoy and the broader Illawarra community's support, thank you for helping to make this important work possible.''
Funding information for families and individuals affected by potentially life threatening medical conditions is available on the www.illawarraconvoy.com.au website.