Convoy funds new ultrasound machine for Shellharbour Hospital
Convoy funds new ultrasound machine for Shellharbour Hospital
Convoy funds new ultrasound machine for Shellharbour Hospital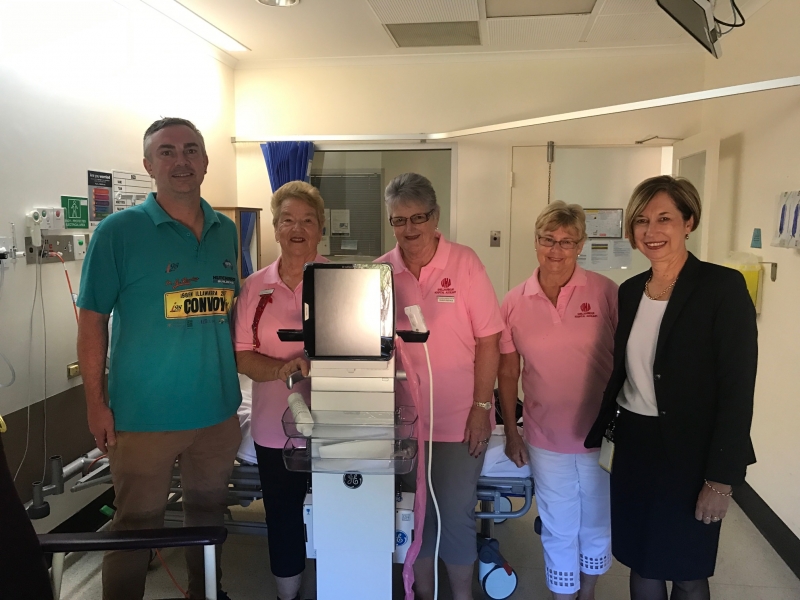 After raising over 1.9 million dollars in 2017 for The Illawarra Community Foundation, thei98FM Illawarra Convoy is funding the purchase of a brand new Venue 50 Ultrasound System, valued at $26,508 for Shellharbour Hospital.

Aware of the funding available through the i98FM Illawarra Convoy & Illawarra Community Foundation, president of the Shellharbour Hospital Auxiliary Lyn Thomson applied for support of the new ultrasound machine. "Members of Shellharbour Hospital Auxiliary are proud to support our Hospital in any way they can, particularly making it possible to purchase much-needed and sometimes life-saving equipment. This type of equipment allows staff to treat patients effectively and assists with a quick and comfortable recovery," says Lyn. "The wonderful support we receive from community groups, ex-patients and their families is very much appreciated and shows just how important our Hospital is to the members of the Public. This donation from the i98FM Illawarra Convoy is very much appreciated as the Ultrasound system will really enhance the quality of care we can provide our patients."
This Venue 50 Ultrasound System is important for the hospital as it can be used by clinicians for a number of procedures including blood collection and improving ease of access to veins for intravenous therapy for patients with difficult to find veins. It means fewer needle pricks for patients and will assist in preventing damage to veins and fewer delays in patients receiving treatment. The equipment can be used in all areas of the hospital from inpatient wards to operating theatres and the Emergency Department.
"The vein finder will help us to locate the veins of patients who have difficult venous access. It will be used to help a range of patients, including children, people with cancer, as well as deteriorating patients on the wards and in the emergency department." Says Frank Testa, Nurse Unit Manager, Emergency Department, Shellharbour Hospital
"The hospital executive team are highly appreciative of this donation from the Illawarra Community Foundation and i98FM Illawarra Convoy 2017, facilitated by the Shellharbour Hospital Auxiliary," says Kerry Shanahan, Director of Nursing Southern Illawarra Hospitals Group. "We are constantly amazed at the amount of time and effort that the Shellharbour Hospital Auxiliary put into raising funds and friends to improve the patient journey. In this instance, their successful application to the Illawarra Community Foundation has resulted in a new piece of equipment that ill improve the comfort of many patients in our care."
This is the second piece of equipment the Illawarra Community Foundation has donated to Shellharbour Hospital, after the hospital received a brand new portable bladder scanner in 2017. Convoy's support of local hospitals doesn't stop there, with another new portable bladder also donated to Port Kembla Hospital, and a $250,000 donation provided to Wollongong Hospital Children's Ward to kick-start stage one of their redevelopment project last year.
"We are proud to support our local hospitals with funds raised during Convoy. Providing support to our local hospitals assists the medical staff to provide better care for people within our local community, many of which may also donate to Convoy. The Illawarra Community Foundation is proud to ensure that funds raised in the area, stay in the area," says Illawarra Community Foundation & i98FM Illawarra Convoy Manager, Mark Rigby.
Funding information for families and individuals affected by potentially life threatening medical conditions is available on the www.illawarraconvoy.com.au website.