Convoy funds a new vehicle for blood cancer patients
Convoy funds a new vehicle for blood cancer patients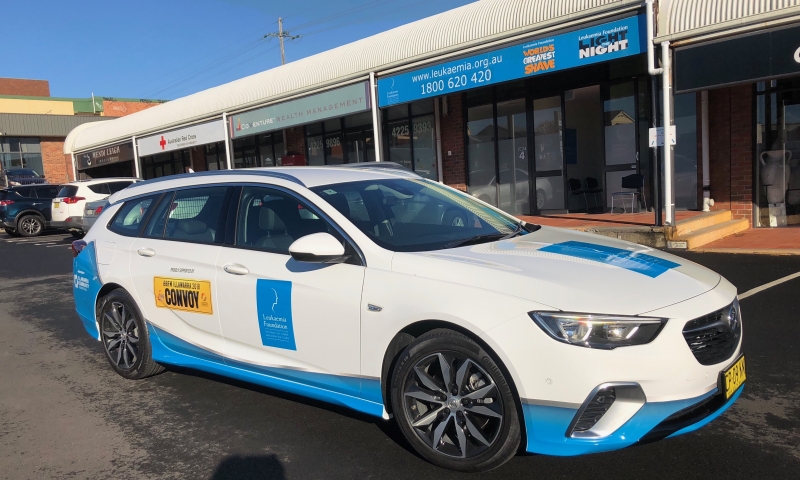 Every day, 35 people in Australia are diagnosed with leukaemia, lymphoma, myeloma or a related blood disorder. In the Illawarra region there are currently 252 patients living with a blood cancer and treatment is highly variable. For slow-growing leukaemia, treatment may include just monitoring. For However, for aggressive leukaemias, treatment includes chemotherapy that's sometimes followed by radiation and stem-cell transplant. This can often mean many trips to Sydney to treatment centres, and due to chemotherapy and weakened immune systems, public transport is not an option for these patients.
The Leukaemia Foundation assists these patients, by providing safe, hygienic and reliable transport to and from treatment centres for blood cancer patients and their families when they are at their most immunologically vulnerable. Based in Wollongong, the Leukaemia Foundation Illawarra patient transport program provides close to 300 trips to treatment facilities each year travelling over 20,000kms.
This service is specifically designed to relieve the pressure faced by patients who are transport disadvantaged. That is, if patients have limited private transport options, such as the carer in the family having to return to work. It also ensures patients arrive at appointments safely and on-time, as well as providing a friendly kind face to greet patients. The Leukaemia Foundation offers this service at no charge to patients, with a team of fully trained and committed volunteers providing this service in the region. The Leukaemia Foundation employs a dedicated Transport Coordinator to confirm patient trips daily to ensure a reliable service is provided.
Regional Development Manager for Leukaemia Foundation, Nina Field, submitted an application to the Illawarra Community Foundation for funds raised in the 2017 i98FM Illawarra Convoy to cover the purchase of a brand new patient transport vehicle and the operating expenses for the program in the Illawarra. The operating expenses included; fuel, parking, e-tags & tolls, vehicle registration, volunteer mobile and mobile phone costs, and annual volunteer driver training. The application for support was successful with i98FM Illawarra Convoy confirmed as the new official charity partner for the vehicle in the Illawarra.
"This is an extremely important service for blood cancer patients within the Illawarra region, who are at their most vulnerable.' says Marty Haynes, i98FM presenter. "Last year we supported the Leukaemia Foundation patient transport program by covering all operating costs for their program in the Illawarra, and we are happy to enhance this relationship with the purchase of a brand new vehicle in 2018, plus all covering operating costs for the year.
To demonstrate the newly formed relationship between i98FM Illawarra Convoy and the Leukaemia Foundation, the patient transport vehicle is now co-branded with both organisations logos. The car was officially handed over to the Leukaemia Foundation with the help of the Carr Brothers Motorcycles Lead Bike team, who took out the lead bike position in the 2017 Convoy.
'We are excited about our continued partnership with the i98FM Illawarra Convoy, and would like to extend our sincerely thanks to everyone who donated to the event, and made this possible. Without the support of partners such as i98FM Illawarra Convoy, we could not do the work we do and continue to assist the local Illawarra community' says Nina Field, Regional Development Manager for the Leukaemia Foundation.
The Leukaemia Foundation works with a team of fully trained and committed volunteers to provide this service in the region. To enquire about volunteering to drive the new vehicle to help blood cancer patients, please call Leukaemia Foundation on 1800 620 420.
Funding information is available on the www.illawarraconvoy.com.au website.