A family affected by Pelizaeus-Merzbacher disease
A family affected by Pelizaeus-Merzbacher disease
Pelizaeus-Merzbacher disease is a genetic central nervous system disorder that unfortunately the Guido family know all too well.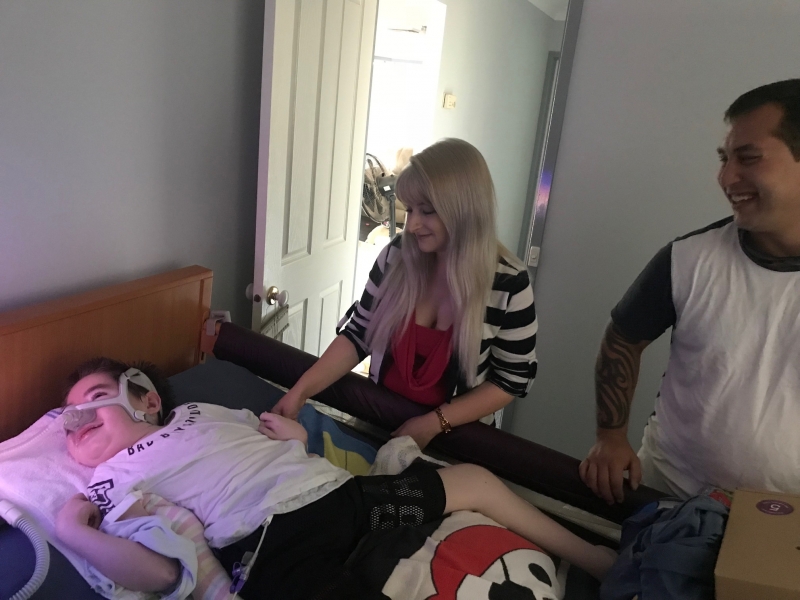 Halfway through her pregnancy Jayde Jordan from Albion Park was informed that the baby boy she was carrying would be born with a rare and incurable disease; Pelizaeus-Merzbacher disease, a genetic central nervous system disorder. Despite knowing the severity of the condition, Ms Jordan did not contemplate terminating her pregnancy.
Pelizaeus-Merzbacher disease is a disorder that affects the brain and spinal cord. It is a type of leukodystrophy and is characterized by problems with coordination, motor skills, and learning. Levi's condition means he is unable to walk, can't talk and has breathing problems which deteriorate over time. The disease mainly affects males, with females often being carriers of the disease but unaffected. In males (who have only one X chromosome), one altered copy of the gene in each cell is sufficient to cause the condition. Because females have two copies of the X chromosome, one altered copy of the gene in each cell usually leads to less severe symptoms in females than in males, or may cause no symptoms at all. It is a disease the family know only too well, with two of Jayde's brothers also diagnosed with this condition. Unfortunately Jayde has lost one of her brothers and one of Levi's cousins and understands the battle Levi has
ahead.
"A blood test at eight weeks revealed my baby was a girl so I decided to proceed," said Jayde. At 23 weeks pregnant Jayde was advised that her baby was in fact a boy, who would be effected by Pelizaeus-Merzbacher disease. "I had the option to abort but I couldn't do that," said Jayde. Ms Jordan, and partner Jayson Guido, work around the clock to care for Levi. Levi now aged 10, is mostly bed-ridden, is fed through a tube and uses a CPAP machine to breathe more easily. A CPAP — or Continuous Positive Airway Pressure — is a type of therapy that applies mild air pressure to a person's upper airway to keep their airway open so that they can breathe normally while they sleep The NDIS plan Levi is on unfortunately does not cover CPAP Machines, and he had one on loan from the CPAP Shop in Corrimal.
An application was submitted to the Illawarra Community Foundation, requesting the purchase of a CPAP Machine for Levi, from funds raised during the i98FM Illawarra Convoy. This request was granted and Levi now has his own brand new CPAP Machine, assisting his quality of life and taking some pressure off his parents to fund one themselves.
"We have assisted Levi and his parents for the last couple of years with food and fuel vouchers, and end of lease cleaning through Convoy. We are happy to provide Levi with his new CPAP Machine and encourage other families affected by life threatening medical conditions to reach out for support," says Convoy Manager Mark Rigby.
Funding information for families and individuals affected by potentially life threatening medical conditions is available on the www.illawarraconvoy.com.au website.