Cycle 1000 raises over $43,000 for Convoy in its first year!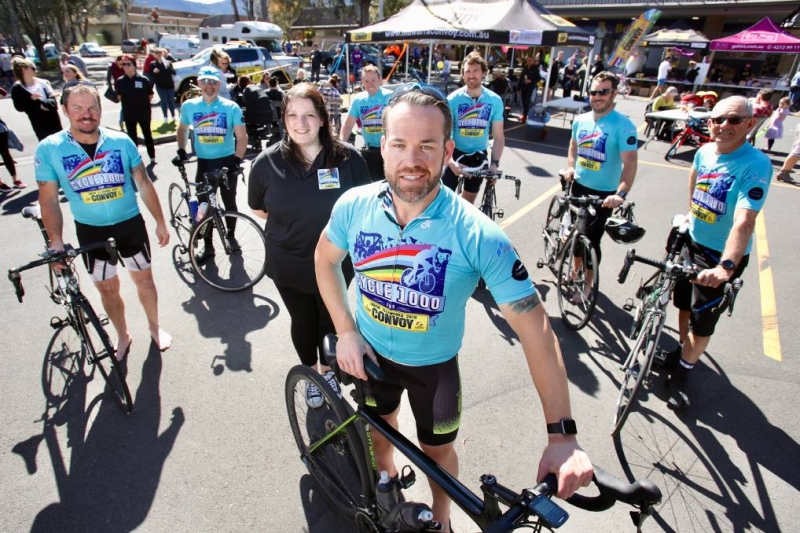 Cycle 1000 raises over $43,000 for Convoy in its first year!
3 September, 2018
Saturday 1st of September 2018 saw seven cyclists finishing a gruelling seven day, 1000km cycle from Evans Head to the Dandaloo Hotel, Kanahooka raising funds for the i98FM Illawarra Convoy. The inaugural event is coordinated by Dan Hotchkis and Bianca Starcic to help raise funds for the Dandaloo Boys lead truck bid in the i98FM Illawarra Convoy 2018.
"The idea began as a ride from Newcastle to Sydney and eventually with lots of discussion, turned into a ride from Evans Head to the Dandaloo Hotel," said Bianca Starcic. "We are always trying to think of new ways to get people involved with Convoy, and we have a team of amazing riders who have been fundraising leading up to the event. We were on a mission to raise $25,000 in our first year!"
The seven riders, (Dan Hotchkis, Grant Fraser, Baz Rodgers, Michael Franke, Tim Fitzgerald, Mark Purkiss and Bill Purkiss) have been fundraising via an online fundraising page on the Convoy website; https://illawarraconvoy.com.au/team/Cycle-1000-Bike-Ride and have also been baking cakes, selling sausages at Bunnings, donation bucket collections, and putting on small events to help raise as much funds as they can in the lead up to the event. The goal for each rider is a minimum of $2000.
"In addition to our cycling fundraisers, we have been inundated with sponsors for the ride kindly donating money and in kind donations across the board," says Dan Hotchkis. "We would like to thank our Gold Sponsors; Hutchinson Builders, BCA Building & Construction and Ross Transport and also the Team Dandaloo Boys group of companies who have all donated tremendous amounts of money towards the ride," says Dan
Riding 1000 kms over seven days is certainly a gruelling task, but the riders are taking inspiration from the children and families who are doing it extremely tough due to life threatening medical conditions. It is children and families like these that funds raised during the i98FM Illawarra Convoy support, through the Illawarra Community Foundation's funding process.
"We are amazed by the continuous ongoing support of Convoy from the Dandaloo Boys, and the community as a whole, "says Convoy Manager Mark Rigby. "Every year we see new events created, and people doing amazing things to raise funds for Convoy. It really is a year round event now, with so many people and local businesses actively fundraising throughout the year. The funds raised allow The Illawarra Community Foundation to provide direct support to families with support such as food and fuel vouchers, medical equipment, pharmacy accounts, schooling needs and more being provided. It also allows us to support our local hospitals with medical equipment, and locally based charities working with life threatening medical conditions," says Mark.
Seven riders were supported by seven support crew, for the duration of the ride.
The ride concluded Saturday 1st September at the Dandaloo Hotel with a Carpark with a guard of honour to welcome the riders and support crew home after setting off on their final leg from Blacktown to Kanahooka. There was a sausage sizzle, jumping castle and balloons for free, and drinks and face painting for a gold coin donation whilst listening to local artist Kate Oakley entertained the crowd.