Convoy raises $1,050,327.11!!!!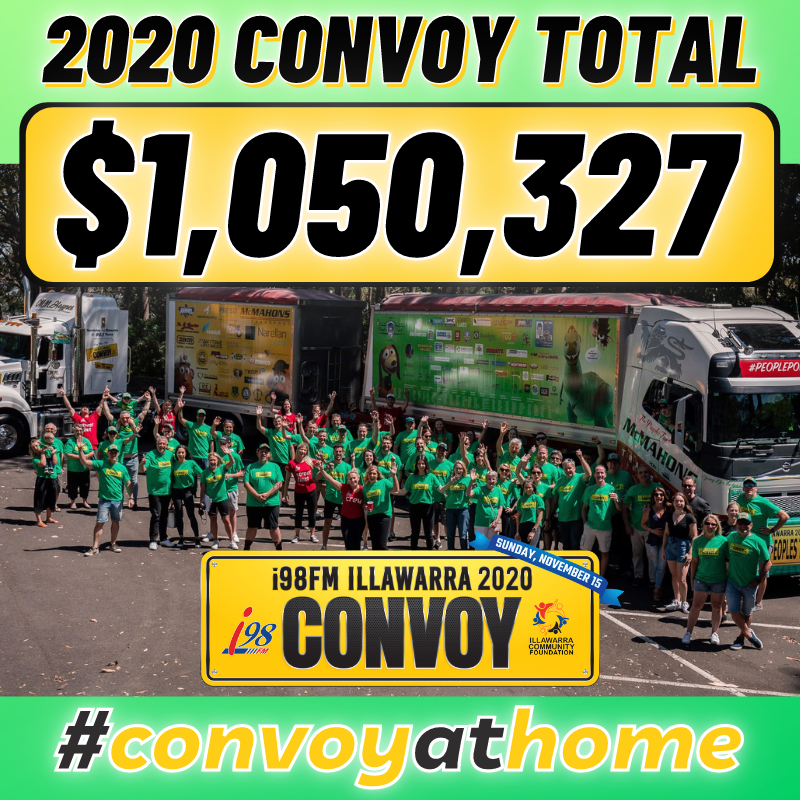 Convoy raises $1,050,327.11!!!!
23 November, 2020
This morning i98FM's Illawarra Convoy announced an incredible final tally of $1,050,327.11 with i98FM Breakfast Show hosts Marty, Crammy and Lyndal. This announcement now means that a total of $17,215.425.02 has been donated in the event's 16 year history. Due to Covid-19 restrictions, the largest truck and motorbike Convoy in the Southern Hemisphere, along with the free family fun day at Shellharbour Airport was unable to go ahead as anticipated. The event was replaced with Convoy at Home on Sunday, November 15 which included a Convoy themed Breakfast radio show, a virtual Convoy concert featuring performers that played at the free family fun day previously, and a two hour Convoy at Home television special,created by the WIN Network.
This is the first time in the events' 16 year history that the truck and motorbike Convoy and family fun day was unable to go ahead as planned. People were encouraged to support Convoy this year by buying Convoy merchandise and celebrating Convoy at Home by decorating their houses, trucks, pets, boats, caravans and more, and posting their images to social media with the #convoyathome hashtag. "We were blown away by the continued support of Convoy this year, and the creativity of our supporters," said Convoy Founder, Marty Haynes. "Hundreds of images were posted to our social media accounts, and the fundraising continued despite the fact we couldn't go ahead with Convoy in its traditional form. The team from the WIN Network, led by Paul Maccabei worked tirelessly to create a beautiful television special that really encapsulated what Convoy is all about, and how the funds raised make a real meaningful difference to those families, charities and hospitals supported by Convoy and The Illawarra Community Foundation," said Marty.
Leading the fundraising charge this year were Coles Illawarra with a phenomenal donation of $156,000, which is only the second time in the events' 16 year history that a non-trucking company has achieved the coveted highest fundraiser position. In addition to the donation from Coles Illawarra, $102,020 was donated by Bluescope, $100,000 from the Peoples Truck and McMahons Transport, and $70,000 from First Choice Earthworks from Robertson who were first time fundraisers in the event. "It was great to see people still supporting Convoy fundraising this year, particularly the team from Robertson, who rallied their local community to achieve an incredible result", said Convoy Manager, Mark Rigby. "Convoy has grown so much over the years, with our supporters hosting fundraising events throughout the whole year. This year, many of our fundraisers were unable to proceed with any crowd based fundraising activities like fundraising dinners, golf days, trivia nights etc due to Covid-19", said Mark. "We were also very proud to see many local kids raising significant funds for Convoy, like Little Leo from Oak Flats, who raised $2,020 for Convoy. We also had several kids that Convoy supports raise funds for us this year which really touched us, like Charli Gerrey $13,178, Piper Williams $3,248.20, The Ebbs and Northey Families $1,787.65 and Hugh Paramanis-Skinner $660.70.

Covid-19 restrictions had a big impact on fundraising in 2020, and this is the first time in Convoy's 16 year history the final tally hasn't surpassed that of the previous year. "We are extremely proud of the fundraising result in what has been a very difficult year for many people", said Marty Haynes. "We would like to thank everyone who supported Convoy this year, and hope the day can return to its traditional form next year on Sunday, the 21st of November."
All money raised in this year's event will go to the Illawarra Community Foundation who will distribute funds to families affected by potentially life threatening medical conditions, as well as local charities working with these people, and local hospitals. Submissions for funding are open year round and information can be found on the Convoy website, www.illawarraconvoy.com.au